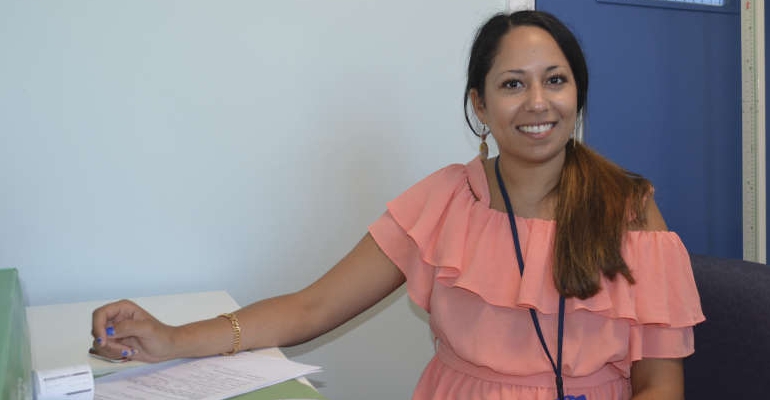 Employees and employers across Mid Sussex can benefit from a free Wellbeing MOT, as Adele Trathan discovered when she met Julia Meckael-Jennings from the Mid Sussex Wellbeing Team
Businesses in Mid Sussex can access this non-clinical service, provided by the Mid Sussex Wellbeing Team, to help promote general good health and wellbeing for their staff. Julia explained, "The Wellbeing MOT is a free service available to small and medium businesses across the Mid Sussex area and the team of advisors offer appointments in the workplace." The Wellbeing MOT is open to all employees with the only exceptions being those who are pregnant, have a pacemaker or an internal medical device who cannot use the Tanita scales but can still attend.
The consultation promotes ongoing awareness of health and wellbeing for each individual and any personal details remain confidential. The intention is to identify and give guidance to areas of lifestyle that might be improved for better overall health.
Julia said, "It starts with a body composition analysis. We operate Tanita scales, which use electrical resistance and signals to create a complete breakdown of body composition, while taking into account individual gender, age and height." The information recorded from the scales includes fat percentage, muscle mass, total body water percentage, bone mass, basal metabolic rate, metabolic age, visceral fat and body mass index.
The information is much more detailed than a traditional BMI reading, which is just a height to weight ratio. For example, an individual with high muscle mass and low body fat percentage might give a high BMI score, but is actually healthier than a high body fat and low muscle mass percentage. In addition, the visceral fat rating refers to fat stored around the internal organs. A score above 13 would indicate that making dietary and lifestyle changes could benefit the individual. A combination of these readings provides a metabolic age, which might be higher or lower than your actual physical age. This can be a good motivator either way; to know that you are in good shape, or that some lifestyle changes could help reduce the reading.
The Wellbeing Advisor discusses the results with each individual, offering information on both the positive data and where there are areas of concern. Other details such as exercise, general activity, alcohol consumption and smoking are also discussed to give an overall picture of the individuals health and wellbeing. Help and advice on lifestyle improvements that can make a difference will then be offered.
For an individual who feels they could benefit from additional support to help achieve any lifestyle changes, the Wellbeing Team offer referrals to other support services within the Mid Sussex Wellbeing Team. Whether this be an individual health check (for those aged 40-74), weight management, alcohol reduction or smoking cessation, these services are designed to help support an individual meet their health and wellbeing goals.
There is no pressure from the Wellbeing Advisors to make changes and they respect an individual who would rather make their own decisions. Wellbeing Advisors are warm, friendly and supportive and have a positive outlook towards achieving better health and wellbeing. It's possible to arrange a follow up appointment a month later, during which achievements or struggles can be addressed. As Julia explained, "The Wellbeing Team is proactive in supporting the journey to better health and wellbeing for the Mid Sussex area."
To find out more about a workplace Wellbeing MOT contact the Mid Sussex Wellbeing Team
Telephone: 01444 477191
Website: www.midsussex.westsussexwellbeing.org.uk
Email: wellbeing@midsussex.gov.uk