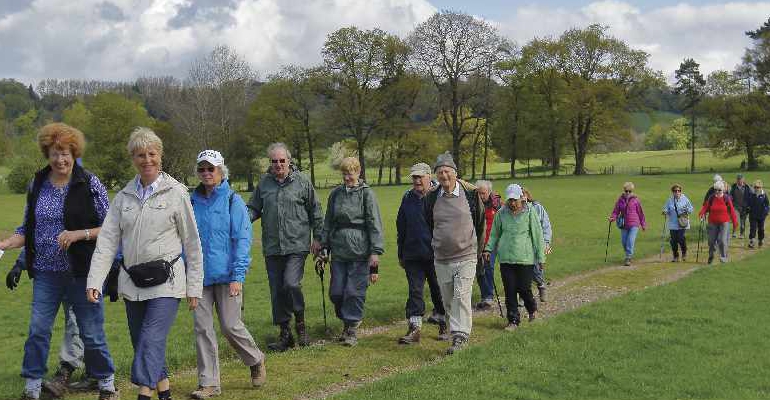 No longer in full time work? Just Retired? Audrey Bateman has the opportunity of later life learning and friendship waiting for you at the University of the Third Age
Your local University of the Third Age (u3a) offers a variety of low-cost daytime activities for, what we call, the third age of life. It provides opportunities to keep active, meet like-minded people and to continue to use existing knowledge and skills while learning new ones. There are 39 u3a groups in Sussex and over 1,000 across the UK.
The East Grinstead branch of the u3a was formed in 1995. It's a particularly strong and flourishing group with 550 members and a managing committee made up of volunteers.
Activities are organised by members and the East Grinstead branch contains over 50 groups of varying size, catering for a wide range of interests, from the book club or cross-stitch to family history, handbell ringing, science and technology or country walking. An annual holiday, within the UK, is also arranged for members who might wish to participate.
Linda Howard, Secretary of the East Grinstead group, recalled, "Shortly after retiring, I joined the family history interest group and have been delighted at the friendliness of the group and the opportunity to share knowledge and skills. The u3a has helped me to make new friends and feel so much more positive about retirement and what I can potentially learn and achieve in my Third Age."
Despite the curtailment of face-to-face meetings in recent months, a number of activity groups have continued online using Zoom, as have regular monthly member speaker meetings and quiz afternoons. Linda is optimistic that before too long the full range of activities can be restarted. In addition, planning for exciting new groups such as photography and gardening is underway.
Val from the singing for pleasure and ukelele groups is full of praise. "Joining the U3A enriched my retirement. It has given me the opportunity to try things I've always wanted to do and to learn new skills. It's enabled me to meet people with similar interests."
The u3a helps people regain their self-confidence, avoid loneliness and depression, and makes people feel valued. Learning is not pursued for qualifications but for enjoyment and age is no barrier as Andy from the all seasons walking and country walking groups noted. "I joined the u3a in East Grinstead as I felt they offered an interesting programme of activities. I also wanted to meet new people and have made a number of new friends since joining the group."
The University of the Third Age has branches all across Sussex and existing members look forward to welcoming new members. To find more more information about membership and activities visit the website.
Rather than winding down in later life, why not take the opportunity to spread your wings and reach new heights? The third age of life is an opportunity to learn, laugh and live.
Website: www.u3asites.org.uk/east-grinstead/home
Contact Membership Secretary, David Bignell, at memsec@eastgrinsteadu3a.co.ukor by calling 01737 218047
Find your local u3a sites in East or West Sussex at www.u3asites.org.uk/sussexu3anetwork/members