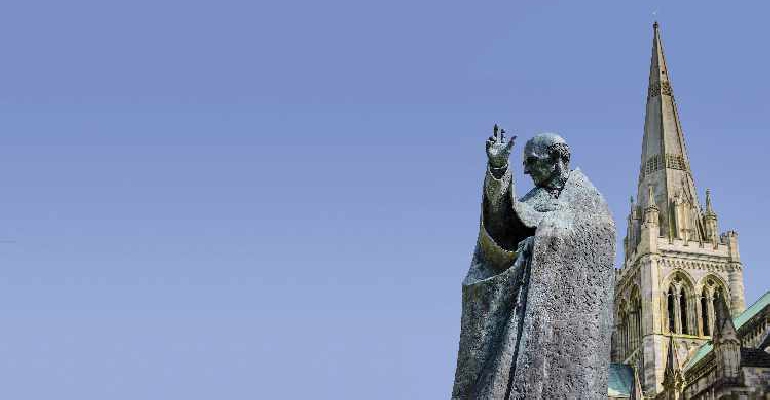 June 16th is fast approaching and this means Sussex Day is almost here. Robert Veitch spoke to Brady Ells about this relatively recent innovation of a celebratory day to all things Sussex
The day for all things Sussex is June 16th, which coincides with St. Richard's Day – the patron Saint of our county.
Sussex Day isn't ancient tradition it's a recent creation, thanks to a 2006 collaboration between Worthing resident Ian Steedman and Henry Smith, then leader of West Sussex County Council and now MP for Crawley. Henry Smith liked Ian Steedman's idea of celebrating Sussex history and culture, of restoring local pride in communities. West Sussex County Council recognised the inaugural Sussex Day in 2007, with many local councils and central government doing so in more recent times.
Since then, Sussex Day has grown organically across the whole county, a slow burner that's gradually seeped into the pores of the county and the communities within it. Events spring up here and there as Sussex Day gathers a little more momentum each year. "I like the grassroots feel of it" Brady told me, "that it's grown organically, that people do their own thing."
For most of the last decade at Brady's instigation the Sussex Flag has been flown in the six rapes of Sussex in advance of Sussex Day. The rapes were administrative areas set up more than a millennia ago and were an early form of local government. Flags are flown at locations in Chichester, Arundel, Bramber, Lewes, Pevensey and Hastings.
At other locations the Sussex Flag is also flown and performances of Sussex by the Sea take place. In some communities, the reading of the Sussex Charter is also part of the proceedings.
Some county days are as old as the hills, but most are relatively recent innovations. Ours is on June 16th so mark your calendar, make a note in your diary, and be prepared to celebrate!
RICHARD DE WYCH
Richard de Wych was born in Worcestershire in 1197 and educated at Oxford University where he later taught, before entering the church. In 1244 he became Bishop of Chichester. On a personal level Richard employed strict disciplines and avoided indulgence; he dressed in a hair shirt and was vegetarian.
After Richard died in Dover on April 3rd 1253, his internal organs were removed and buried there, but his body was returned to Chichester and interred in the Cathedral on June 16th. Nine years after his death Richard was canonised and his tomb became a place of pilgrimage. At the time it was reportedly almost as popular as Thomas à Becket's. Henry VIII ordered the tombs destruction in 1538 and its rumoured St. Richard's remains may have been moved to West Wittering.
The modern shrine to St. Richard inside the Cathedral came to fruition in 1930 and June 16th has long been celebrated as his feast day. A statue to St. Richard was unveiled outside the Cathedral to mark the millennium. St. Richard became the patron saint of Sussex during the fifteenth century and is also the patron saint of coach drivers.