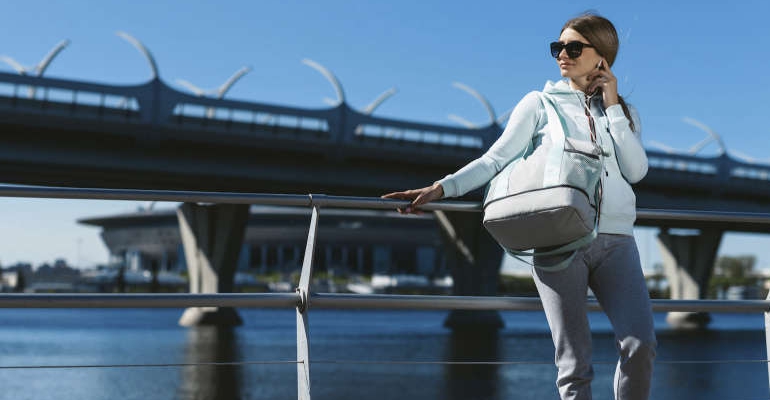 Are you feeling ready to take on the world one power lunge at a time? Sara Whatley looks at the joy of life in athleisure
What is more appealing than wearing clothes that are both comfortable and aesthetically appealing? Not a lot, especially in the month of February when we might still be carrying those few extra pounds from Christmas… ahem.
Activewear is a term and style of clothing we are all familiar with; casual, comfortable and suitable for movement. It's what's been worn in the gym and for sports and exercise for years. In the past few years however, there is a new kid on the block: athleisure.
Similar to activewear, athleisure is casual, comfortable and suitable for movement, but it has made the crossover into our everyday lives. Yoga leggings in particular are now the bottoms of choice for many busy women. They are particularly comfortable as they hug your body in all the right places, have a supportive high waist and they stretch with your every move. They are also great out on errands – walking the dog, doing the school run, shopping, even commuting to and from work. Basically, anything that you can do in jeans, you can now do in yoga leggings.
Athleisure has been particularly popular during lockdowns, but it is here to stay with its comfort and practical qualities. So, how to wear it in everyday situations, not just in the gym, and still look fashionable?
It may seem like counter intuitive styling but mixing sweat-pants and heels can be a killer look. If you are bold enough you could wear it out in the evenings or even to work – if you have a fairly relaxed dress code! Just make sure you have elasticated cuffs, so your heels don't get swamped.
Smarten up athleisure basics by layering with tailored garments – think a hoodie under a fitted jacket or coat, a sports bralette under a structured button down top or slouchy jogging bottoms with a shirt and woollen jumper combo. Make sure you mix up different materials too; soft cotton, denim, leather, and sheer stretchy materials.
If you are going for a full athleisure look it's a good idea to keep colours neutral and similar – or even go for matching top and bottoms. Pop on a pair of box fresh trainers and a puffer jacket to keep you toasty and you will be set.
Don't be afraid of accessorising your athleisure looks with your regular bags, hats and jewellery too. A smart leather bag acts as a perfect counterpoint to a relaxed casual style. A cap, beanie or furry bobble hat always looks great with everything and can hide a multitude of sins too – greasy or un-styled hair be gone! And why not bring a little bling to the picture with bold chunky jewellery?
Whatever styling you opt for, this look can carry you through the year and keep you staying comfortable, casual yet stylish in everything you do.