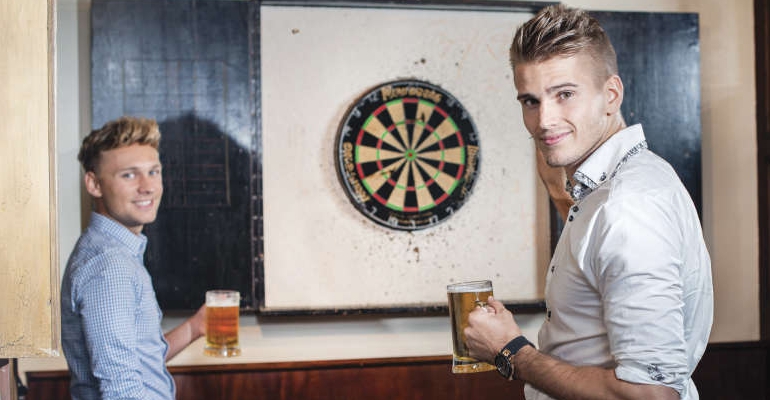 Before the advent of computer games, we British kept ourselves amused with more home-spun hobbies, sports and pastimes – many of which centred around the local pub. Peter d'Aguilar has explored darts, so pop down the local, order a pint, whip out your arrows, and enjoy a very social hour or two
In times past, nearly every pub or club would have a dart board. Despite television coverage turning the likes of Eric Bristow, John Lowe and Michael van Gerwen into household names, darts remained a sport of the people – inexpensive and accessible to all. Each player is generally armed with three darts and aims at a circular board, 7 feet 9¼ inches distant from a throw, or toe, line called the oche. The board is numbered one to twenty, with an inner and outer bullseye, worth scores of 50 and 25 respectively. Each numbered segment contains smaller double and treble areas. The maximum score with a single dart is 60, for a treble 20.
The classic darts format is 501. Both players start with a score of 501 points and take alternating turns. The points scored are removed from the total and the first to reach zero wins the game. Each player has to finish with a double. In the not too distant past, league matches played between local pubs were very popular and very social, but with fewer pubs there are fewer leagues.
Locally, there are many other games involving darts and a dartboard that remain popular; including; round the clock, killer, halve it and golf.
It is believed that darts originated in medieval times when bored soldiers would amuse themselves between battles by throwing the stubs of arrows or crossbow bolts at a target on a tree. The modern form of the game dates back to Lancashire in 1896.