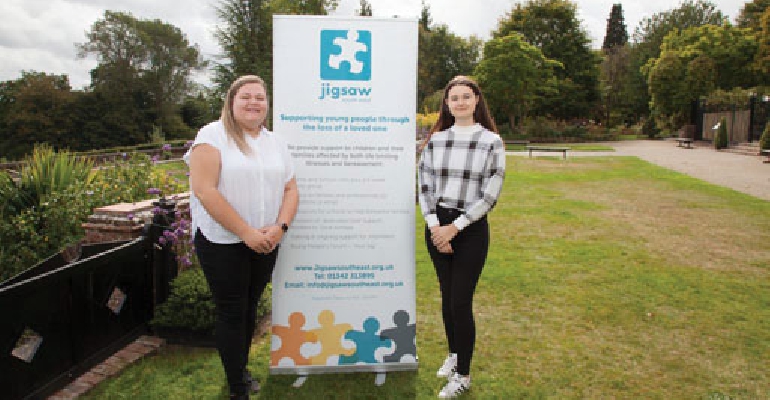 When a child loses a family member they were dependent on, it can be a harrowing experience. Yet, a charity that offers grief support to youngsters does exist, as Ruth Lawrence discovered when she visited Jigsaw (South East) in East Grinstead
Losing a family member through accident, illness, suicide, or murder is an unimaginably awful experience but doubly challenging to a child or young person who depended upon that person for love and support. The sad reality is that in the UK one child in 29, will be bereaved of a parent by the time they are 16.
Jigsaw (South East) is a child bereavement charity which offers grief support to young people and their families, and those preparing for the loss of a loved one. Bereavement can bewilder children which is why they need to talk and be given an explanation of what is happening in an age appropriate, honest way, while having their questions answered thoughtfully.
Hannah Romaine and Molly Humphreys were nine and eight years old, respectively, when they lost their fathers to cancer. Both attended separate Jigsaw (South East) Grief Support groups. Now, aged 20 and 19 they say the help they received was 'invaluable,' they felt less isolated and met other children in the same situation who understood what they were going through.
The girls met at college and have become close friends, bonded by their shared experience of childhood bereavement. They decided to get in touch with the charity again, to 'give something back as a thank you, for the support they had received at a desperately difficult time in their young lives.
As the charity supports young people, it has been crucial to find people of a similar age to speak out about the experience and process of facing the bereavement of a family member and this is where 'Young Ambassadors' are enormously helpful.
For the past two years, Hannah and Molly have been 'Young Ambassadors' for Jigsaw, attending events and sharing their stories and experiences. They have also met and spoken with younger bereaved children at family group sessions. Hannah said: "We hand out teddy bears, and it's great to see the friendships the children have made."
In 2019, the girls helped to launch BBC Children in Need in Sussex, and both of them spoke about how volunteering has helped build theirconfidence. Last December Molly officially represented Jigsaw in an online streamed memorial service.
Molly and Hannah have embraced their ambassadorial roles and the responsibility of spreading the word about the invaluable services the charity offers. They are shining examples of how the right support at the right time can help a devastated young life. Both young women will be starting university this Autumn.

KATHY'S STORY
Kathy Binning grew up with her twin sister Ceri always alongside her; photos show them playing, two happy little girls, with wide grins having fun with the unique and extra special companionship only a twin can provide.
Decades later, a week after Ceri had given birth to her second son, she was diagnosed with pancreatic cancer. Kathy, who had just become pregnant after years of trying, supported her sister through chemotherapy, radiotherapy and surgery. Twice Ceri was given the all-clear. But when her cancer returned for the third time it had spread and, realising she would need support put in place for her young sons and husband Gary, Ceri contacted Jigsaw.
The family was able to enjoy several Jigsaw activity days out, meeting other families in the same situation. Five years after her initial diagnosis Ceri, aged just 40, died in June 2020. Since her death, the charity has continued to support Gary and the boys.
Ceri campaigned tirelessly to raise awareness of pancreatic cancer. After her death, Kathy set up an In Memory page to honour her and raised over £3,000 for Jigsaw (South East). Kathy said her sister was, "her heroine, utterly selfless and devoted to family." She plans to continue fundraising for the charity to help others, in celebration of the bravery and courage of her beloved twin.
To find out how you can donate, support, volunteer for, or learn more about Jigsaw's work, visit www.jigsawsoutheast.org.uk