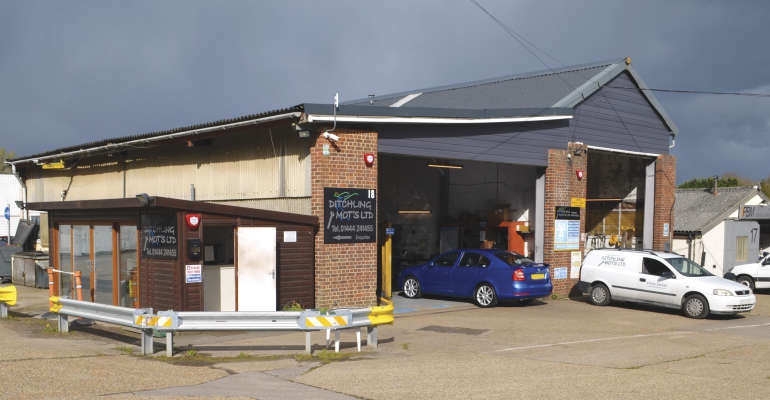 An MOT may not seem like the most exciting necessity, but in order to keep your vehicle safely on the road, it pays to choose wisely where you take your vehicle and as Robert Veitch found out recently, Ditchling MOT's Ltd is an excellent choice
When the Ministry of Transport test was first introduced in 1960 the aim of the legislation was to ensure cars were safe and roadworthy. Fast-forward sixty years and several amendments to the original legislation, there are now over 65,000 registered testers across the UK and at one garage on Ditchling Common, Hassocks, MOT testing is the name of the game, it's the bread and butter of what they do.
Walking into Michelle Marshall's office it's obvious that she's passionate about what she does. She's clearly a woman who knows her spreadsheets from her shock absorbers, and the difference between her ECU's, ABS, VAT, and RPM. She has a cheery disposition, very friendly and positive, she's a can-do, let's fix this problem woman.
Michelle purchased the business on May 1st 2010 and has taken great pleasure in driving the business forward during the last decade, with the aim of propelling on through this one too. "We had planned to celebrate our tenth anniversary in 2020," she told me, "but the pandemic put an end to that. So after two stop-start years we'll mark the occasion this year and celebrate our tenth birthday on our twelfth. The team and I intend to enjoy a British staple… tea and cake, shared with our neighbours on Ditchling Common."
As the name above the door suggests most of the work undertaken are MOTs, either for private customers or as trade work for other garages. Most of the vehicles tested are cars, vans and minibuses. But as Michelle was keen to tell me, they also specialise in camper vans ranging from those vintage dormobiles of yesteryear through to modern state of the art recreational vehicles.
For Class 4, 5, or 7 vehicles, be assured Ditchling MOT's Ltd can get the job done. MOTs are arranged by telephone because the team believe it's the best way to make arrangements, answer questions and resolve issues before they happen. It's possible to book an MOT for any vehicle up to a month in advance of the current certificate expiring and for readers who aren't quite sure when theirs is due, it's possible to check by searching 'MOT check' at www.gov.uk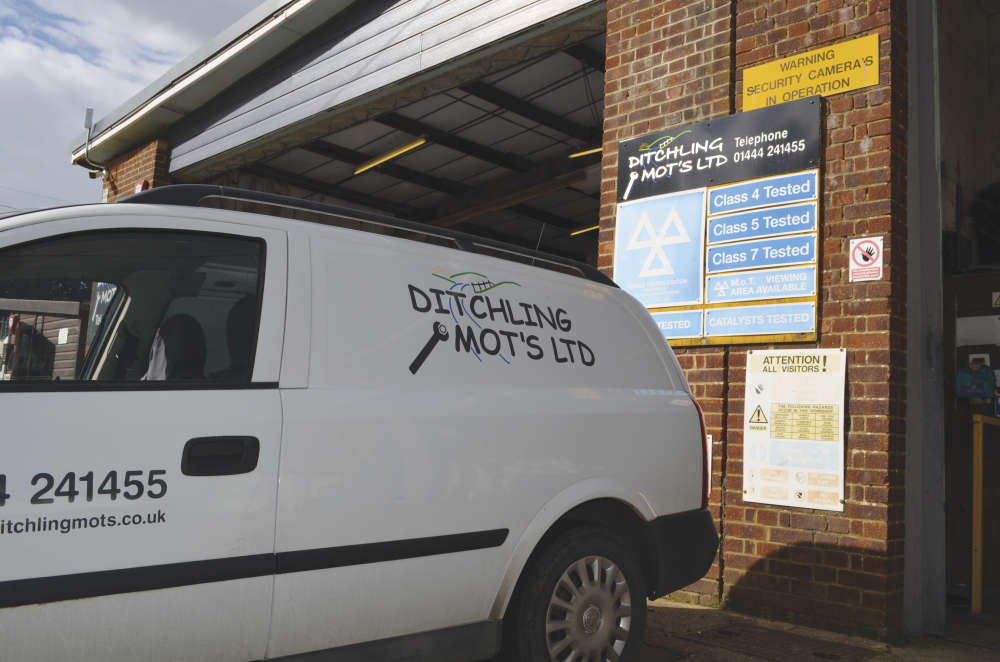 The average time to complete an MOT is 50 minutes, so once a vehicle is driven into the testing bay, then all being well it's usually possible to be driving away within the hour. For those that want to wait while the test takes place there's space in the viewing area. Alternatively, drop the vehicle off in the morning and collect it later on. Either way, there's ample on-site parking.
The team of five which includes three MOT testers, is headed up by Craig Holt, who has been with the company for many years. The team know what they're doing, they're very capable, friendly, and they have decades of accumulated experience. "For some of them their experience in motor vehicles stretches back to the days when fuel was sold by the gallon," Michelle explained.
Aside from the core work of the business, Ditchling MOT's Ltd also undertake repairs and servicing. Most of their customers return year after year and appreciate the straight-forward and honest approach of Craig and the team. There's something reassuring about good old-fashioned service, mechanics explaining the problem and the solution in terms that the customer can relate to.
"Our loyal customer base is something we have never taken for granted. We appreciate each and every one of them, and we're always taking on new customers too." Surviving Covid-19 proved difficult, but rewarding. "We remained open throughout the lockdowns, but only to help essential workers, and it was wonderful to be able to do our bit to help keep doctors, nurses, paramedics, firemen and care workers on the road, so they could do their jobs to help the rest of us."
An MOT might be a necessity, but there are various ways of getting it done. So it's reassuring to know that an independent local firm, with a rock solid reputation, fuelled by word of mouth recommendations, is close at hand and ready to help. Need an MOT? It's time to book a visit to Ditchling MOT's Ltd.
Ditchling MOT's Ltd
Address: Unit 18, SM Tidy Industrial Estate, Ditchling Common, BN6 8SG
Telephone: 01444 241455
Email: enquiries@ditchlingmots.co.uk accounts@ditchlingmots.co.uk
Website: www.ditchlingmots.co.uk