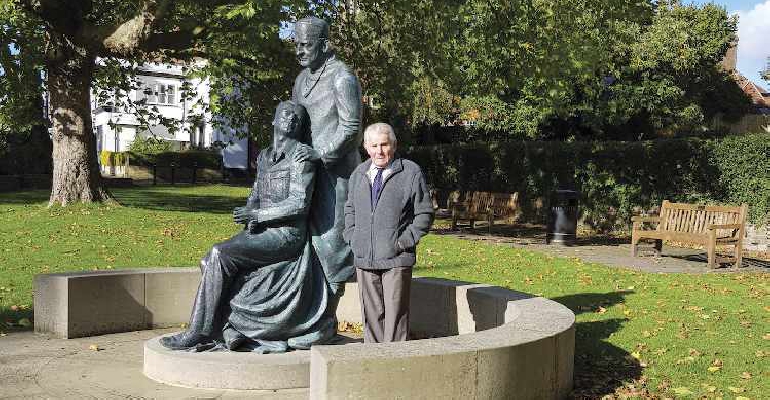 The name Sir Archibald McIndoe may well be forever associated with East Grinstead and his pioneering surgery, though the number of people that worked with him grows ever smaller. Bob Marchant, the Secretary of the Guinea Pig Club looks back on his time with the trailblazer
ARCHIBALD MCINDOE AND THE GUINEA PIGS
New Zealand born Archibald McIndoe began his work in East Grinstead, at the Queen Victoria Hospital, at the outbreak of WWII. He was knighted for his pioneering surgery in 1947.
The Guinea Pig Club was established informally in 1941 as a support network and social club for those who had undergone reconstructive surgery after enduring burn injuries in the war. Initially with just 39 members, this had grown to 649 by the end of the war. McIndoe was a great endorser of the Guinea Pig Club as he wanted to make patient's lives as relaxed and sociable as possible following their surgery. His second wife Constance also supported him and his work with the Guinea Pig Club. The marriage proved a success and her presence at social functions was a great force for good.
The advent of the National Health Service in 1948 caused McIndoe great apprehension as he thought it to be a threat to the Queen Victoria Hospital's independence. Post war he continued to work at the Queen Victoria; as well as returning to Harley Street to perform cosmetic, plastic surgery, later becoming known for the 'McIndoe nose.'
Sir Archibald McIndoe attended the opening of 'The Guinea Pig' pub in 1957, which was built on the corner of Quarry Rise and Holtye Avenue. He was behind the bar to pour the first pint. Social gatherings finished half a century later in 2007 when there were less than 50 members remaining. Worldwide, just 7 members remain alive today. The pub closed in 2008 and was demolished the following year, but the sign still hangs in East Grinstead Museum.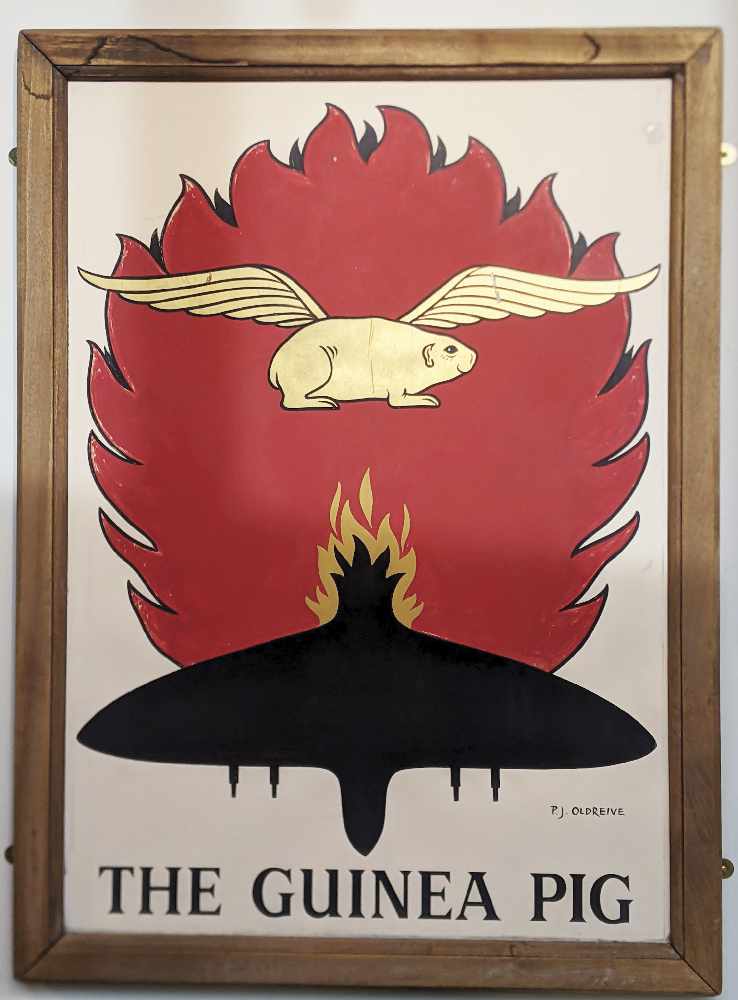 MEMORIES OF WORKING WITH SIR ARCHIBALD 1956-60
Bob Marchant started at the Queen Victoria Hospital, as an Operating Theatre Attendant in 1956. During his RAF medical training Bob had learnt of McIndoe's work and felt privileged to be offered this role.
When Bob arrived at the hospital McIndoe was at the peak of his powers and had a great influence that extended throughout the hospital.
Sir Archibald was well built, looking fit and healthy despite his daily workload. He stood about 5'6" and spoke clearly and precisely, without an accent. His hands were broad, and Bob wondered how he could perform such intricate, fine and delicate surgery.
McIndoe's primary day for operations was Monday, starting at 10am sharp in Theatre 1, which was one of four theatres in the American Wing. Each had a viewing gallery for medical visitors to study and learn from the surgery.
There was a smaller theatre for Opthalmic Surgery and a central anaesthetic room, serving all the theatres.
McIndoe's office was at the entrance of the American Wing, close to the X-Ray Department and Out-Patients. It became the consulting room and all the plastic surgeons would meet on Saturday mornings before heading home for the weekend. One of his desks remains in the Surgeons' Mess to this day.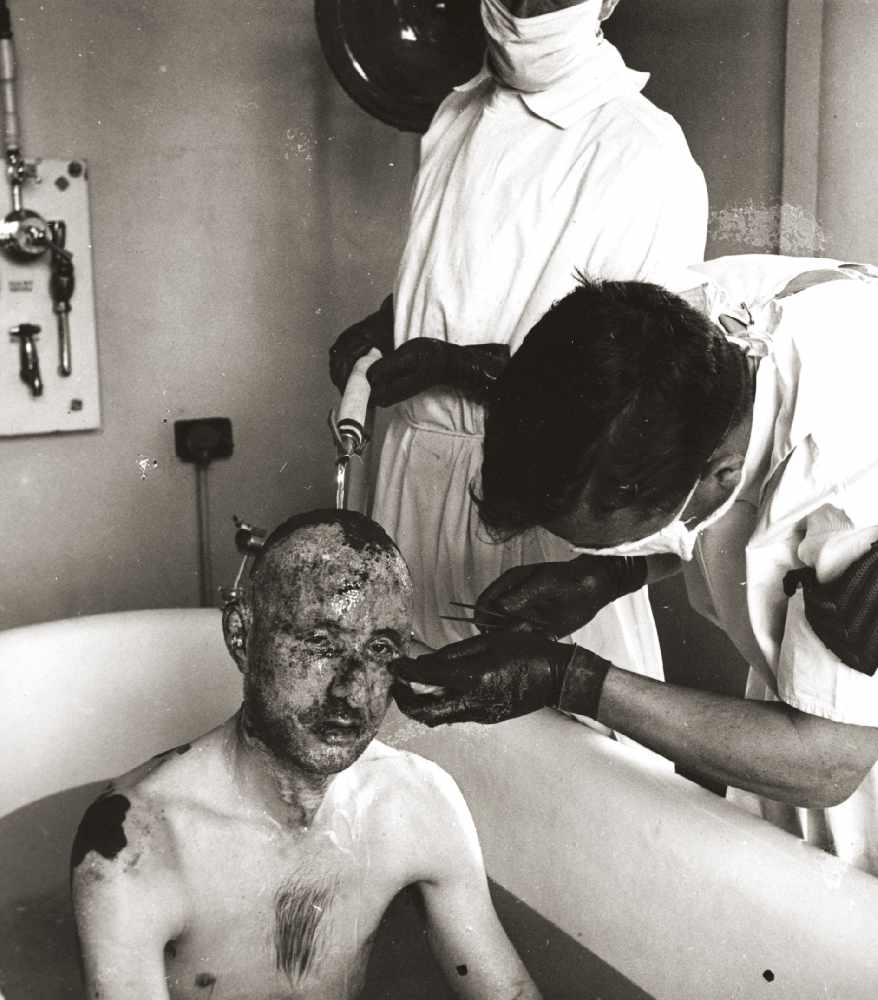 The plastic surgery team was always ready to work but would grab a coffee in between the sessions of surgery, ward visits and consultations.
Sir Archibald would walk down the corridor in his scrubs; a white singlet, black rubber apron, and white calf length wellingtons ready to start surgery, having checked everything was suitably prepared and ready to operate.
He liked to utilise the same team; the Theatre Sister and Anaesthetist were a constant. Other consultants followed the same principle. For Bob, that meant he could not land a spot on McIndoe's team until he was judged to be ready and able, but luckily this did not take too long. In theatre Bob was always on his toes and alert, ready for anything. McIndoe expected the best from everyone, and after surgery he would thank everyone before leaving for home or his London apartment.
Sir Archibald was always willing to pass on his knowledge, either during surgery or afterwards on the blackboard. He was a stickler for tidiness and expected everything to be put away neatly. In those days surgeon's gloves were washed and baked in special ovens to sterilise them, ready for use. Sir Archibald would turn a blind eye to the nurses who sometimes used the ovens to dry their own underwear at the weekend.
McIndoe worked tirelessly for the hospital and also for the Guinea Pig Club. He made sure his 'Boys' in the club received the attention and rewards they deserved. The club has endured for 79 years now.
On 12th April 1960 mid-morning news filtered through to the hospital announcing that aged 59, McIndoe had died in his sleep the previous evening from a heart attack. Bob found it hard to believe he would not see this great surgeon at work again and felt like a black cloud was passing over all of them. The work at the hospital continued uninterrupted as they felt he would have wanted it to carry on.
Bob continues to feel honoured to have worked with such a great surgeon and well-respected person, it is something he will never forget.