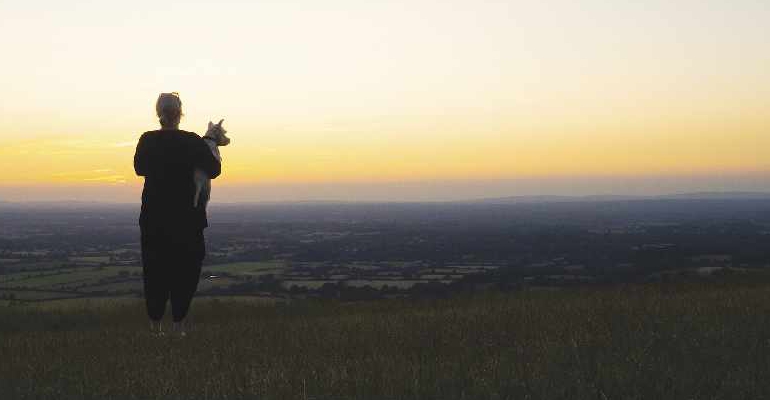 Advertising Feature: Many elderly people prefer to stay in their own home, but they can feel isolated and alone. Lisa de Silva spoke to Danielle Hope of Sussex Home Checks about how they help clients in later life remain independent at home, but still enjoy social and practical support
Naturally kind and caring, Danielle Hope has always kept an eye out for her older neighbours. So, on moving to Henfield three years ago, she happily agreed to check up on her elderly neighbour when asked by his daughter. As word spread among the older community, more people came forward to ask Danielle if she could pop in and check on them too.
"Gradually, it dawned on me that there are lots of older people out there who are not ready for carers, but would nevertheless appreciate someone popping in to check that all's well and help them with shopping, paperwork and generally brightening up their day," she smiles.
Three years later, Danielle's company, Sussex Home Checks, has built a loyal and ever-expanding clientele throughout the county. The team all share Danielle's warmth and empathy and are committed to helping the older community maintain their independence at home for as long as possible, without having to rely on family.
"We're like a surrogate family member so we can do shopping, medication checks, prescription collection, provide and prepare meals, as well as dealing with paperwork and tradesmen. Our customers really enjoy having us popping in and you can see how much brighter and happier they are. Our tea and cake visits are really popular, as are the Friday night fish 'n' chips suppers."
The company philosophy is to celebrate being young at heart and they always make a fuss of customers on special occasions. "We bought cards and chocolates on Valentine's Day and gave our ladies flowers on International Women's Day. It brings a little sparkle to their eyes and their lives," Danielle tells me.
Staff are all DBS checked, first-aid trained, fully insured and receive ongoing training. What's more, all staff and customers now have vaccine protection and Danielle is proud that during the pandemic, visits were maintained using PPE and social distancing, with nobody contracting the virus.
"Our service offers reassurance to both our customers and their families," Danielle explains.
Families praise the positive impact Sussex Home Checks has on their relatives, also reporting that with checking up and admin tasks taken care of, it leaves them free to enjoy time with their loved ones. Access to online reports detailing each visit, also allows any issues to be nipped in the bud.
Keeping customers mentally and physically active is a priority, so staff will do puzzles and crosswords on their visits and as lockdown relaxes, there will be walks and garden centre visits, to help rebuild confidence and reintegrate customers back into the community.
The service is tailored to each individual, whether that's a regular medication reminder telephone call, or a daily visit. Packages are also available, starting at £69 for three one-hour weekly visits.
Sussex Health Checks are always looking for people who would enjoy working with them so please get in contact should you wish to discuss current opportunities.
Sussex Home Checks
Telephone: 01273 492 629
Email: hello@sussexhomechecks.co.uk
Website: www.sussexhomechecks.co.uk
Henfield Home Checks is a registered trading name of Sussex Home Checks Limited