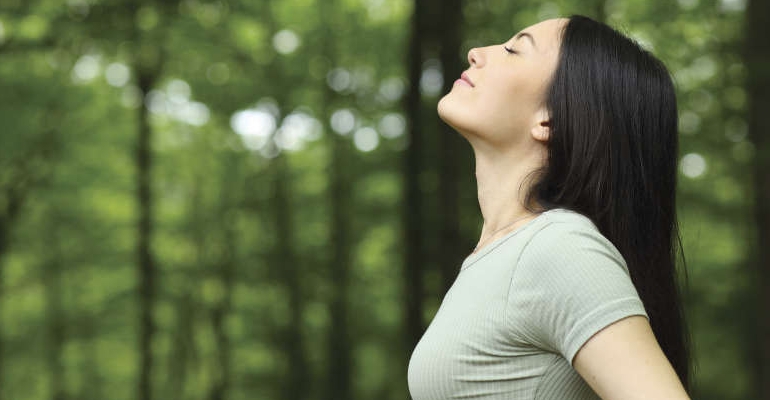 We are keeping it fresh this month and breathing deeply as Sara Whatley explores the benefits of fresh air
It couldn't be simpler, more readily available or cheaper and yet be such a powerful element in our health and wellbeing quest. What am I talking about? Fresh air.
Fresh air benefits our bodies in a number of ways. It clears our lungs, replenishes our blood with fresh oxygen and leaves us feeling energised and alert. All that fresh oxygen in our bloodstreams, in turn it helps our bodies to function at their peak and aids digestion, our natural immunity, heart health, our mental wellbeing and much more.
Increasing our fresh air intake goes hand in hand with getting outside and into nature more frequently; walking, running, playing outdoor sports and games, or seeking stillness in the calm of the natural world. In the 1980s in Japan there emerged an exercise called 'shinrin-yoku' or 'forest bathing'. This exercise has now been adopted the world over and simply involves immersing yourself in the forest and just being in nature. It was originally devised to de-frazzle the burnt-out tech boom generation, and to help build an appreciation of the forests, but many people now use forest bathing to aid their own mental and physical wellbeing and help with depression and anxiety, overwhelm and screen fatigue.
Spending time in forests, woodlands, in the company of trees and other natural environments away from pollutants will not only calm the nerves but can also help to improve blood pressure and heart rate. Stop, close your eyes, tune into the environment around you and take some deep breaths. Beautiful.
It may be a simple picnic or trip to the park after school. It might be a coastal hike or switching the indoor gym to the outdoor one. It might be sitting in the garden with a cup of tea. It might be wild swimming, tai chi in the park – whatever you chose it all counts to filling up on the wonders of fresh air.
I have noticed a fractious atmosphere indoors with my two young children can be altered immediately by going into the garden. It may be the distraction of something new but generally children thrive outdoors, happy in the fresh air, mud and space. A good afternoon in the park will see my kids to a hearty dinner and a good night's sleep.
The variable British weather can put a bit of a downer on enjoying the great outdoors, but go prepared and there is life affirming satisfaction to be had feeling the rush of wind hurtling inland off a stormy sea (from a safe distance of course) or jumping in puddles in the rain with little ones – they never mind what the weather does!
It's what we as humans innately know; time spent in nature and fresh air is good for us. Let's breathe.