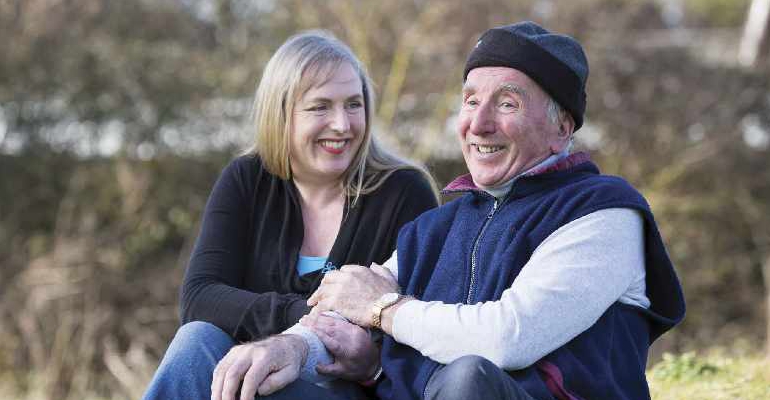 If the coronavirus pandemic and the restrictions that followed have taught us anything, it's the importance of human contact, writes Ken Oxley
Social distancing guidelines reduced human contact and plunged hundreds of thousands of vulnerable people who rely on it into an unfamiliar and frightening world. It's a challenge we've all had to come to terms with, but no group of people has been worse hit than those living with dementia.
The statistics make shocking reading. As of mid-October, around 14,000 people with dementia had died from the virus, accounting for over a quarter of all coronavirus deaths in the UK at the time.
But that only tells part of the story. A recent survey by Alzheimer's Society, the UK's leading dementia charity, revealed the devastating impact coronavirus has had on the mental health and wellbeing of not only those with the condition, but loved ones and carers too.
It found almost a third (32%) of those affected by dementia reported apathy or a sense of 'giving up'. Nearly half of respondents (45%) said lockdown had a 'negative impact' on their mental health, and around half of unpaid carers (46%) also reported that loved ones with dementia had experienced stress, anxiety and depression.
Data from Alzheimer's Society's Dementia Connect support line bolsters the disturbing findings, with the impact of coronavirus on mental health being the most prevalent issue, accounting for around 40% of all calls.
A follow-up survey by the charity, this time focusing on the extra caring hours being put in by family and friends of people living with dementia, threw up yet another surprising set of statistics.
Alzheimer's Society estimated family and friends spent an extra 92 million hours caring for loved ones with dementia from 23rd March to 29th September across England, Wales and Northern Ireland. In the South East, where there are more than 134,000 people living with dementia, that equated to 13.6 million extra hours.
The importance of social contact for people living with dementia cannot be overstated – the lack of it is the reason so many have found recent events so distressing.
Chris Maddocks, from Eastbourne, who lives with dementia, said: "My mental health and state of mind has taken a hit because of coronavirus and I know I'm not alone. I have been much more depressed and anxious, which is why I reached out to Alzheimer's Society. You can never underestimate the power of social contact and being around loved ones, particularly for people living with dementia. I hit a down point. It's like a bereavement because it happened so quickly, and I felt like there were no alternatives.
You're left without a routine and stuck in limbo. I can't help but feel hopeless and helpless as I look to the future."
Chris, who is cared for by her partner, is typical of people with dementia across the UK who have found lockdown especially isolating.
It is a problem Alzheimer's Society has tried to address by proactively maintaining contact with those affected by dementia in a variety of ways after it was forced to temporarily suspend face-to-face services. Peer support groups that are regarded as a lifeline for many cannot take place at the moment. Home visits by Dementia Advisers have also, regrettably, been put on hold.
However, the charity has responded by hosting some services online – utilising video conferencing technology, for example, to run its popular 'Singing for the Brain' sessions.
And its Dementia Advisers have made more than 125,000 Welfare Calls to people affected by dementia who use our services to offer information and support, and remind them they are not alone. Furthermore, the charity's Dementia Connect support line has never been busier.
Dementia Advisers help those affected by the condition to navigate their way through myriad complex issues, such as gaining better access to health, community, housing and care services, as well as providing crucial emotional support so people with dementia can take control of their condition and live the life they choose.
It's estimated there are 700,000 people in the UK who care for someone with dementia, who are mostly unpaid and collectively save the UK economy £11.6 billion per year. This silent army of husbands, wives, sons and daughters prop up our health and social care system, typically spending 1.3 billion hours a year providing care. Without them, people living with dementia, and society as a whole, would be a great deal worse off.
Anyone affected by dementia can call Alzheimer's Society's Dementia Connect support line on 0333 150 3456. For up to date information, services and practical advice, visit alzheimers.org.uk
This is also where people can access the charity's online support group Talking Point.