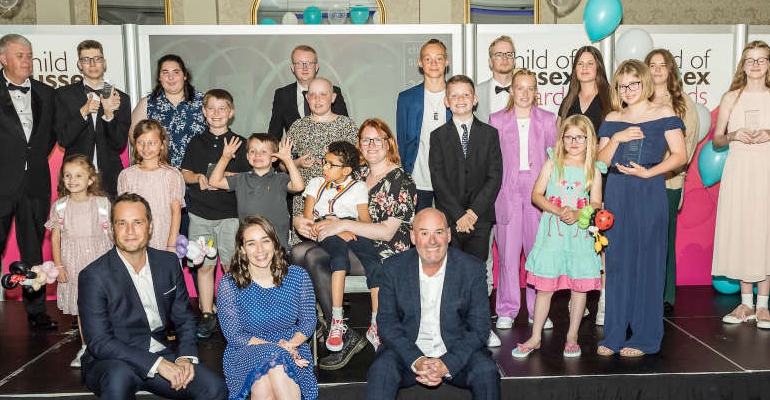 The Child of Sussex Awards winners for 2022 have just been crowned. The annual awards presented by Sussex Living magazine and More Radio, were awarded on 15th July at a glitzy ceremony at the Grand Hotel in Brighton, with headline sponsors ABN Amro and Gold Arts, writes Oliver Dyer
The evening celebrated the courage, bravery, and outstanding achievements of Sussex's inspirational young heroes; from sporting star to best sister, a total of 13 awards were up for grabs. The event was presented by Tom, Lou and Jack from the More Radio Breakfast Show.
They trio commented, "There were some hugely deserving award recipients on stage with some inspiring, heart-warming, and sometimes tear-jerking stories to tell. The team at More Radio feel very proud to be able to recognise these extremely special children. A big thank you to all our award sponsors this evening as an event like this wouldn't be possible without the help of the businesses and organisations that support us."
Here is the full list of winners...
The Child Of Sussex Carer Award for 2022 is Tilly Melhuish (sponsored by Sykes Cleaning)

Best Friend Award for 2022 is Eva Solari (sponsored by Portslade Panel Works)

Fundraiser Award for 2022 is Max Confalone (with the Dame Vera Lynn Charity)

The Sporting Star Award for 2022 goes to Rubie Harris (sponsored by Freedom Leisure)

The Make A Difference Award goes to Maisie Askew, and the Best Brother Award goes jointly to Oliver & Rupert Askew (sponsored by ABN Amro and Sussex Freemasons)

The Best Sister Award goes to Grace Parmenter-Elsmore (sponsored by Sussex Freemasons)

The winner of our Performer Award for 2022 is Zak Michael Smith (sponsored by BTR Brakes)

Sporting Team Award 2022 is Wick Dynamos Inclusive Football Team (sponsored by The New Inn)

The winner of our Community Award for 2022 is Megan Wiseman (sponsored by THL)

Achiever Award for 2022 is Evie Collingbourne (sponsored by Jonathan Lea Associates)

The Gold Award for 2022 is Levi Cooper (sponsored by East Sussex Fostering)

The winner of the Courage Award for 2022 is Angel Ward (sponsored by Wenban Smith)
You can see all the winners and photos of the evening here at childofsussex.co.uk