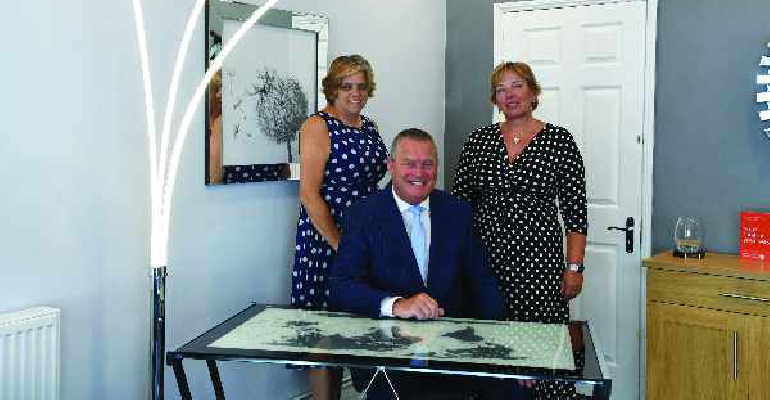 (Paid advertising feature) We chat to Paul Bowley at Bowley Funeral Service's freshly updated Hassocks branch, to discover how funerals are now more about celebrating a loved one's life than mourning their passing
With signage changed from blue to a fresh peppermint, the premises are immediately welcoming. Colour greets you at the door, to demonstrate that the traditional sombre black has been replaced by a feeling of joyful remembrance represented by rich, positive hues.
Bereaved families can view their loved ones from a beautiful, airy room, filled with muted natural light. The deceased is revealed behind curtains which are printed with colourful birds and flowers, the very symbols of life.
Plans are in place to include a service suite this year if social distancing allows; the Haywards Heath branch is already capable of hosting 50 people in their dedicated service suite under normal conditions.
Memorial headstones can be arranged through all of the branches, and once lockdown is finally over, there will be a surge of memorial services to compensate for the current limitations in force. This is when the celebratory aspect of a person's life will be fully expressed.
Friends and family will be able to gather and remember the lived years, the achievements and the passions of their loved one in a way that is utterly unique to them.
Paul mentions, "People don't have to go anywhere else, everything is done here." From flowers to service sheets and pew cards, everything can be seamlessly arranged on the premises, ensuring that the celebration is worry free for grieving relatives and friends.
Many people are now opting to arrange a prepaid funeral plan to save their family the anxiety of decision-making when they pass away, and Paul says they will honour the price paid at the time, even if the person lives on for decades.
Funeral plans utilise the UK's largest and fastest growing independent funeral plan provider Golden Charter, which has been in operation for over two decades. This option also means that an individual can make choices about how he or she wishes to be celebrated and the possibilities for expression are so much wider than they used to be.
It essentially means that a bespoke funeral can be arranged in advance, completely unique and transparent as it only charges for what you wish to include.
With that most visual focus of a funeral, the coffin, the choice used to only extend to the type of wood and fittings. Now you can choose willow for a low ecological footprint, or even cardboard, which is more robust than it sounds and allows people to write messages on the surfaces.
Coffins can now be decorated with virtually any theme so a person's passion can be boldly represented in a visual, memorable statement.
Up-to-date technology allows unusual mementoes to be created for friends and relatives; Paul showed me how a person's fingerprint can now be etched in silver to form remembrance jewellery and other items.
Ashes can be incorporated into glass artworks or jewellery so the essence of a cherished loved one can literally be kept close at all times.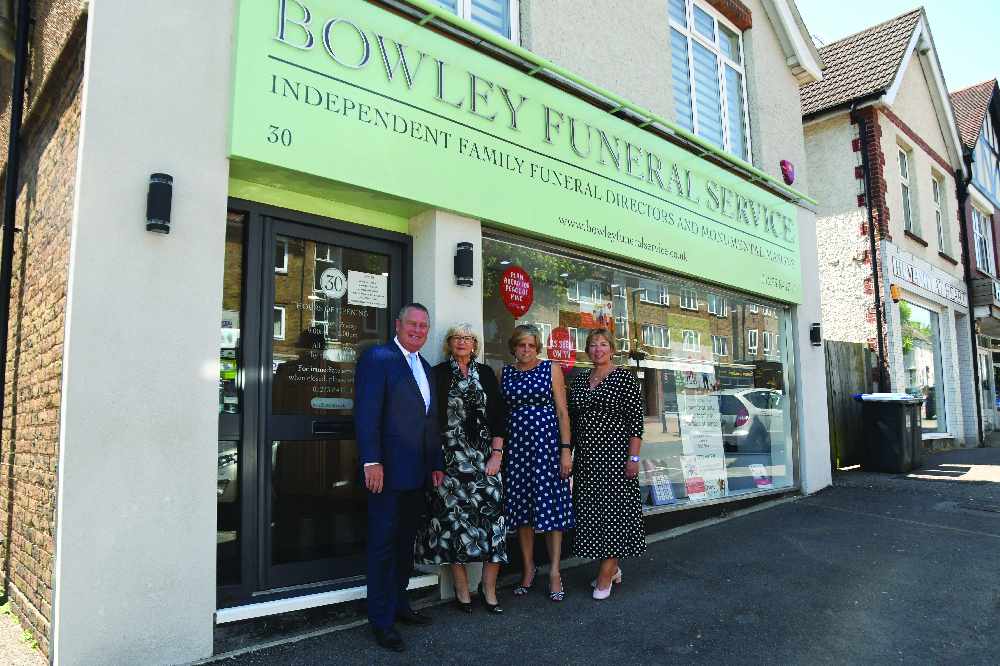 Paul has been involved in funeral care for 42 years; he began as a coffin maker in Brighton and is now a governor of the Independent Funeral Directors' College, which is run by people in the funeral business and awards accredited certificates for successful candidates.
He has been president of SAIF (National Society of Allied and Independent Funeral Directors) and is a long serving Rotarian. He established Bowley Funeral Directors in Hassocks in 1999 in partnership with P&S Gallagher.
All branches of the Bowley & Gallagher family in Hassocks, Haywards Heath, Burgess Hill and Brighton are all fitted out to the same exacting standards.
A new hybrid electric hearse and limousine have just been purchased and the recent Hassocks branch refurbishment offers a truly uplifting welcome for anyone having to deal with the loss of a loved one during these especially challenging times.
Paul says, "We're here 24 hours a day for anyone needing to move a deceased person, day or night," and his team will travel anywhere in the country to bring a person home to where their life can be celebrated in what would have been familiar surroundings.
This allows people to express their grief in local surroundings rather than having to travel out of their familiar sphere for a service. Paul and his team are available seven days a week until late in the evening, with branch facilities or home visits if required, and anyone is welcome to drop into the premises to discuss future plans or immediate concerns about a recent bereavement.
The past few months have been spectacularly challenging for anyone having to deal with the passing of a family member or friend. As society begins to return to a semblance of familiarity, the solid reassurance offered by Bowley & Gallagher's long established family firm will be all the more appreciated while coping with loss.
As the memory of a person's life is so roundly celebrated, it makes the process that much easier to bear for those left reeling from the visceral shock of bereavement. Anyone in this difficult situation will be assured that all aspects will be expertly covered, allowing them freedom to celebrate a unique life and continue on their own, changed journey.
Bowley Funeral Service
30 Keymer Road, Hassocks, West Sussex BN6 8AN
01273 841711
funerals@bowleyfuneralservice.co.uk