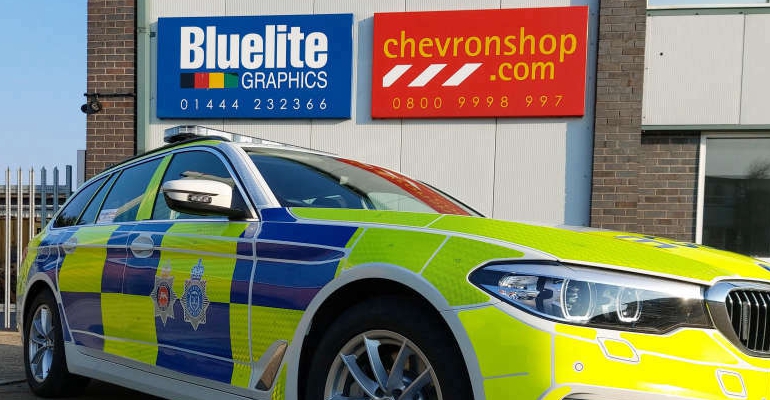 Advertising Feature: Burgess Hill-based Bluelite Group is celebrating a significant anniversary – 25 years of serving local customers with vehicle markings, commercial signage and digital graphics
From police cars and commercial fleet vehicle 'wraps' to billboards and embroidered polo shirts – Bluelite has grown to become the one-stop shop for high quality, value for money products. To mark this anniversary year, the company is introducing a fresh corporate identity as a positive statement for the future.
"In this special year, we'd like to say a big thank you to all our customers – some of whom have been with us since 1997," said Lorraine Avery, Bluelite's managing director. "We're also looking forward to working with new customers as we continue to expand our product range… notably in vehicle branding, digital graphics and a new clothing embroidery service."
Bluelite Group businesses include Bluelite Graphics, leaders in vehicle livery for the emergency services, the Chevronshop online platform for commercial fleet markings and signage, and Doubledot large format printers. All are part of the Group's journey to minimise their carbon footprint and reduce their environmental impact, in partnership with employees, suppliers and customers.
The company has reduced its reliance on fossil fuel generated electricity by 10% through investment in its own renewable energy source. Half of its power requirements are now met by solar energy. Bluelite also uses low solvent inks, LED lighting throughout, eco-friendly materials where possible, and electric vehicles for service support.
Lorraine added, "Bluelite is accredited to ISO 14001 for environmental management and we use independent assessors to chart our progress on our sustainability journey; we constantly challenge ourselves to do better."
Website: www.bluelite.co.uk