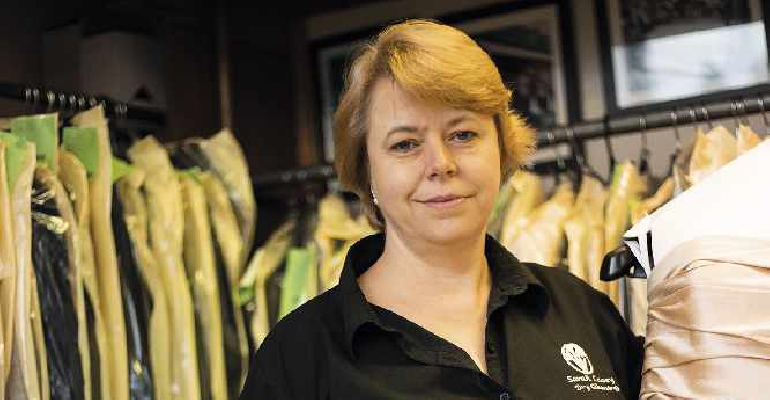 Advertising Feature: Offering everything from beautiful face masks and craft supplies to bespoke cleaning services, Sarah Lacey Dry Cleaning is getting back to business post-lockdown as Hanna Prince discovered
Lockdown has been tough on small family businesses, but Sarah Lacey has turned the time to good account. Through creating and selling beautiful handmade masks, she and her team have managed to raise an incredible £3,000 for St Peter & St James Hospice.
"We're still making the masks on the premises and we're hoping to raise more money for the charity over the next few months," said Sarah, who continued opening her Haywards Heath shop for limited hours during lockdown but is now once again offering a full-time service.
As well as selling face masks, Sarah Lacey Dry Cleaning stocks a full range of craft materials – everything from zips, ribbons and curtain tape to Dylon fabric dye and a brand new range of Anchor embroidery thread. With an increasing number of people picking up crafting hobbies during lockdown, this product range has been increasing popular. But the business is most famous for its bespoke dry-cleaning service, with a focus on designer wear, wedding dresses, delicate fabrics and vintage clothing.
Sarah's family have been keeping the people of Haywards Heath spick and span since the late 1800s. "It began with my great great grandmother Jenny Marchant, who started out taking laundry into her kitchen in Western Road," said Sarah. "The family continued laundering and our first shop was in Commercial Square. I took on this shop in 2007, but I have over 30 years of experience in dry cleaning."
Part of the appeal for customers of Sarah Lacey Dry Cleaning – who come from all over the county and beyond – is that Sarah offers a uniquely bespoke service. She carefully assesses each garment that comes in, and her lengthy experience includes dealing with everything from business suits and school uniforms to one of-a-kind designer pieces.
Her green ethos also chimes with eco-minded customers. "We are trying hard to reduce our plastic consumption," Sarah explained. "Our garment wrap is biodegradable and can be recycled alongside carrier bags at the supermarket. We also take back, clean and reuse our own coat hangers. But if customers want to bring their own garment bags and coat hangers then we are, of course, more than happy to use those."
After a difficult year, Sarah is particularly keen to express her gratitude to regular customers. "Some of our customers continued to come every week during lockdown because they needed the help," she said. "I'd like to thank all our loyal customers and say how grateful we are to them for continuing to use our services."
Sarah Lacey Dry Cleaning
Address: 1 College Road, Haywards Heath RH16 1QN
Telephone: 01444 416644
Email: enquiries@sarahlacey-drycleaning.co.uk
Website: www.sarahlacey-drycleaning.co.uk