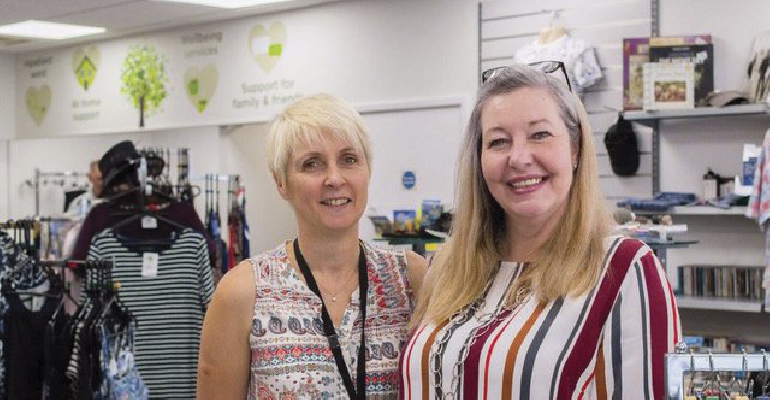 (Paid advertising feature) We find out that despite this year's challenges St Peter & St James Hospice continue to discover new ways to keep up with fundraising efforts whilst keeping everyone safe
Just as the COVID-19 pandemic continues to influence our lives, our local charities are also dealing with its impact. St Peter & St James Hospice provides high quality care to support those towards the end of life.
The hospice only receives a small percentage of its funding from the government and relies on donations, fundraising activity and retail to raise the majority of its money.
Along with donations, income is generated by both the charity's retail and fundraising departments. "Our shops are now open for business, helping to raise much-needed income for the hospice," explained Emily Cronin, Head of Trading. "We're fully stocked and our fantastic retail staff have put in safeguarding measures in line with government guidelines."
This requires instore PPE and a robust quarantine process for all items, so customers can feel safe while shopping. "We've had some fantastic donations from people across Sussex," Emily told me. "Wonderful furniture, fashion and collectables, which we sell through our shops or online. A rare doll recently fetched £1,800 and this local support is really appreciated."
One major obstacle to building on this success is the charity's need to find a new distribution centre in the Burgess Hill area.
With donations needing to quarantine for 48 hours, the charity needs extra room to prevent a backlog of goods in the warehouse, which often necessitates a pause in accepting more donations.
If any readers can help the charity locate suitable premises of around 6-8,000 square feet, please contact Emily on the details below. Fundraising has also been difficult.
"While the response to our emergency appeal was overwhelming in terms of people's generosity, this period has been challenging for our events and community fundraising efforts," revealed Amanda Hyatt, Head of Fundraising. "Yet we've been delighted at how supporters have continued to fundraise using a mixture of creativity and ingenuity; one supporter is running 13 'self-designed' marathons in 13 months."
One positive is that the hospice's Events team is focussing on working with people to achieve their fundraising ambition in memory of a loved one.
"We can really help people to define their activity and maximise their fundraising ability," explains Fiona Gray, Events Fundraiser.
The charity's annual Lights of Love remembrance service will be a virtual event this year. People receive a Lights of Love box in return for a donation which includes a candle, order of service and Christmas decoration to enhance the experience of watching online.
In this way, the service can be opened up to more people than ever before. As Fiona says, "This year, it is more important than ever to have the opportunity to come together to remember loved ones and reflect on the events of this year. The Lights of Love is a wonderful uplifting service to remember those no longer with us."
St Peter & St James Hospice
Address: North Common Road, North Chailey, BN8 4ED
Telephone: 01444 471598
Email: enquiries@stpjhospice.org
Website: www.stpjhospice.org