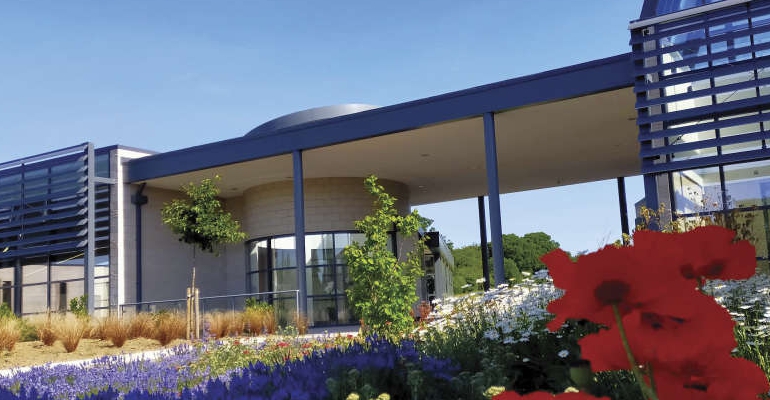 Advertising Feature: At Wealden Crematorium the team are passionate about celebrating the life of your loved one in a special and unique way. Lisa Fiddimore tells Sara Whatley how they do it
Set in wildflower meadows with buzzing bees and flitting birds, woodland and pasture where sheep graze, there couldn't be a more tranquil and beautiful place to celebrate the life of a loved one than Wealden Crematorium.
It opened its doors in 2019 to serve the families of Wealden District but it is open to all. Since then many families from across the region have used the facility, from Haywards Heath to London, Tunbridge Wells to Eastbourne and Hastings. Anybody can come and everybody is welcome.
The rural setting and wide-open spaces surrounding the architecturally striking building make way for big skies, affording mourners place to breathe, reflect and remember. It is set away from busy roads too, meaning it's a calm and quiet place to be.
"Many people who come here love the rural location and peaceful setting, and we believe we offer a venue that suitably celebrates the lives of all sorts of people from all sorts of backgrounds," said Lisa Fiddimore, Deputy Manager.
Lisa is wildly enthusiastic about the Crematorium, and like all the staff here, will go out of her way to make sure all needs are catered for. "We like to say yes," she smiled. "We understand that each person is special, and we want to help make every service personalised and unique."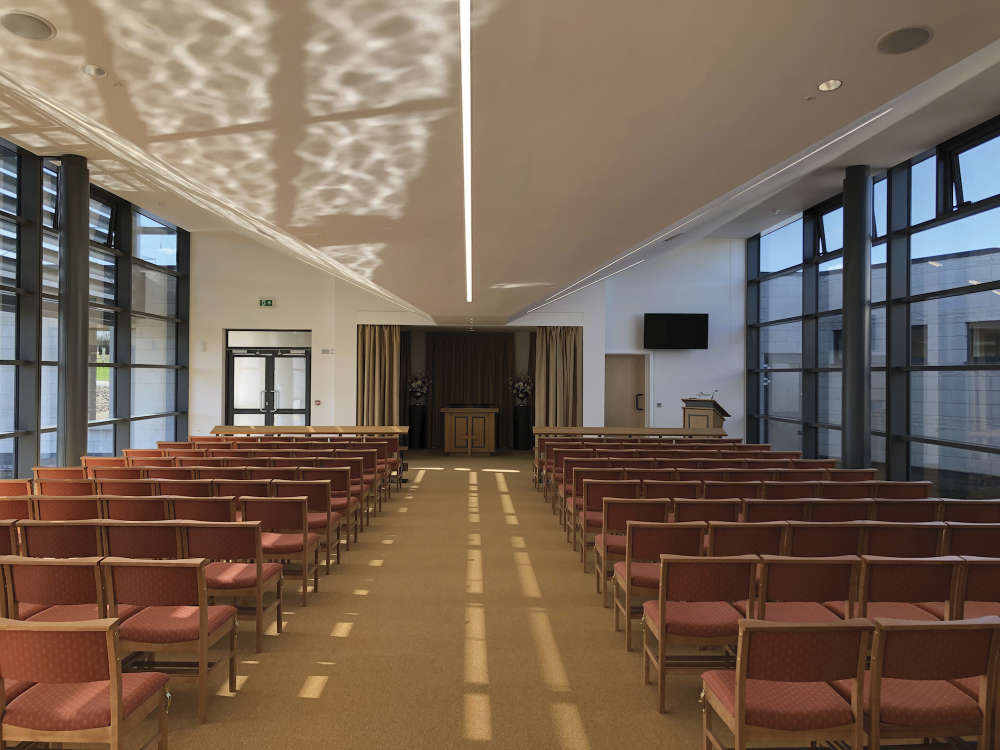 They welcome dogs, have space for horse drawn carriages and a special horse lay-by. The ceremony hall itself has sitting room for 120 people, plus standing room, and for especially large services there are screens and speakers under cover outside and options to broadcast the service digitally for those that cannot attend in person. "The hall has been cleverly designed with a sloping roof, so although it's large if you are a small party gathered at the front of the hall it still feels like an intimate space," explained Lisa.
They also have a huge car park at Wealden Crematorium, able to accommodate 150-200 cars. This may not be the first thing one thinks about when planning a funeral service, but it actually helps reduce stress by knowing everyone can park easily, safely and close by.
The building has been beautifully designed with clean and bold lines. It looks dramatic but not overbearing as the extensive use of glass and space lets the building breathe and sit sensitively in its countryside setting. Spaces inside are light and airy with high ceilings and large windows, inviting the beautiful scenery inside to enjoy all year round and in all weathers. It's fully accessible too with wheelchairs available, and with comfortable modern facilities.
Adding another dimension to the ceremony hall is the reflection pool, which runs along one side of it. From the outside one can contemplate the ducks and flowers planted around the edges of the pool, and from inside the ceremony hall one can enjoy the watery reflections and dancing light cast onto the ceiling. "It is very special," said Lisa.
One of the most unique things about Wealden Crematorium is the time and space given to family and friends to say goodbye to their loved one. Services are held every 60 minutes, with the funeral service itself being a maximum of 45 minutes long. This means unlike many other crematoriums where you see the next service arrive, each funeral is given the space and time it deserves in an unhurried and respectful manner.
As well as funeral services there is also ample space for many different memorial options, which can bring comfort after a loved one has passed. "We have a Book of Remembrance room, our stunning steel tree where you can have a golden memorial leaf, a memorial wall plaque or sanctum vault and many others beyond this," Lisa said. The Garden of Remembrance has been landscaped to accommodate all these memorial options, and more, and stays open for visitors throughout the year.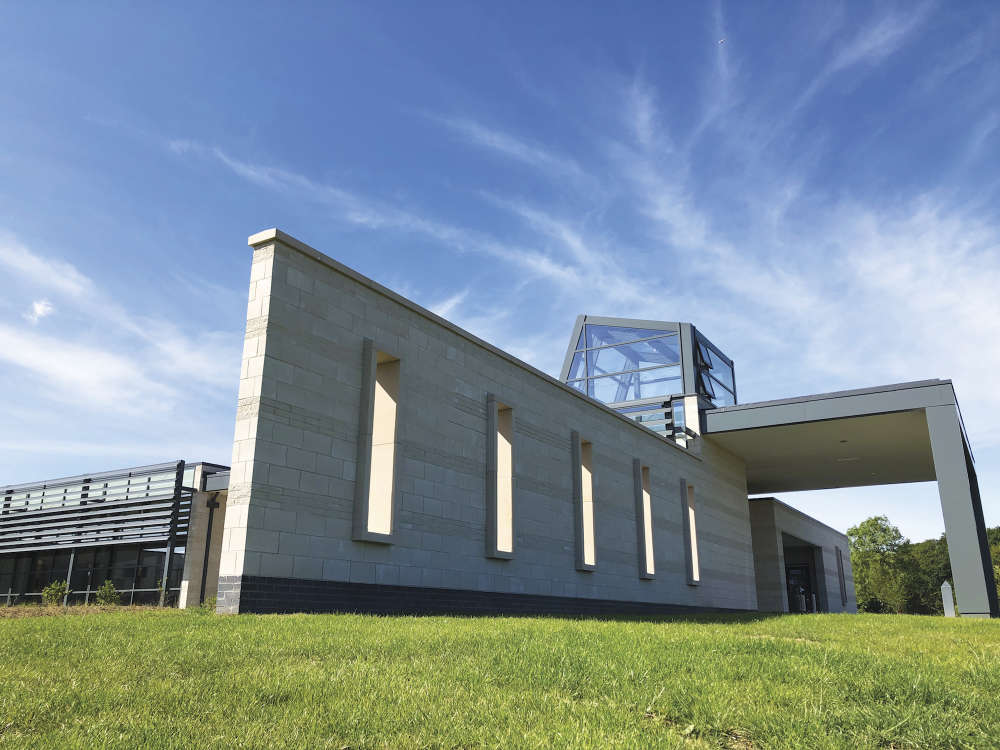 "We have public footpaths running through our grounds and our gates are open every day," confirmed Lisa.
Many people like to pay their respects with floral tributes, and they are most welcome at Wealden Crematorium. On the day of the funeral they can be placed in the flower court or the Book of Remembrance room, and afterwards are displayed in the grounds. In the Garden of Remembrance visitors are welcome to lay cut flowers whenever they come to visit through the year, which will be removed when wilted.
"We have another special feature here; our viewing room," Lisa told me. "For some families it is important to follow the deceased right to the very end. We can accommodate this and have the family in the viewing room to see the coffin into the cremator."
Every year Wealden Crematorium opens up for an Annual Open Day. "We usually have around 400 people come and visit us," said Lisa. "We have refreshments, show people around the building and encourage everyone to look around our beautiful 25-acre grounds. We are proud of this place."
Saying goodbye to a loved one at Wealden Crematorium means you will be supported and looked after the whole way through and experience a ceremony as unique and special as your dearly departed. A truly fitting way to celebrate a life.
Wealden Crematorium
Address: Horam Road, Horam, East Sussex TN21 0FX
Email: crematorium@wealden.gov.uk
Telephone: 01323 443400
Website: www.wealdencrematorium.co.uk