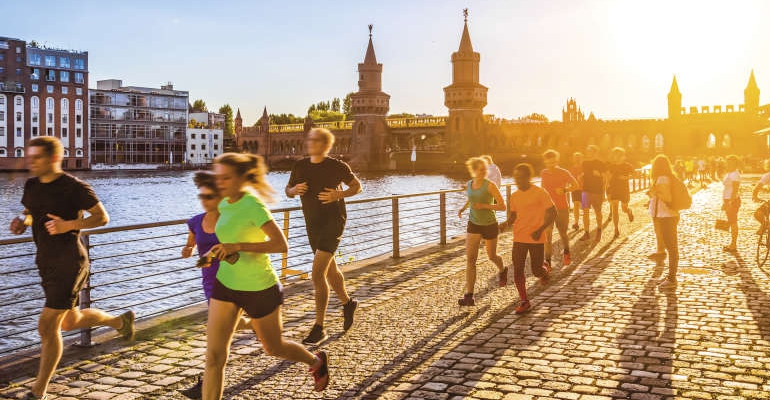 The idea of distance running can invoke many emotions, both positive and negative, so after looking at the local running schedule for the rest of the year Robert Veitch went in search of an expert to inspire us all
There's no doubt David Bradford is a genial and modest man, keen to talk down his talent and achievements which he believes to be achievable by most people, yet those same 'most people' might see them as beyond reach.
"My brother had natural sporting talent," he told me, "while I was shy, chubby cheeked and overweight, wishing I was better." A couple of PE teachers at school encouraged David and it's obvious the time and motivation they offered remains cherished, years later.
"I became sporty in the latter days of University. Aged 22 or 23 I took on the Hastings half-marathon and achieved 1hr 39mins, but I felt ruined and in so much pain I wanted to throw my trainers in the bin."
In 2006, aged 24 David was diagnosed with retinitis pigmentosa, a progressive sight condition that can lead to blindness. "I had to relinquish my driving licence and for someone fuelled by the adrenalin of riding powerful motorcycles at track days, it was tough." The unfortunate irony being at the time, was that David worked at a motorcycle magazine.
"My diagnosis took time to come to terms with, and running was something of a distraction, as if proving to myself that my body still worked." David joined Lewes Athletic Club and within two months, with a proper training schedule he ran the 10,000m (6.2m) in under 40 minutes.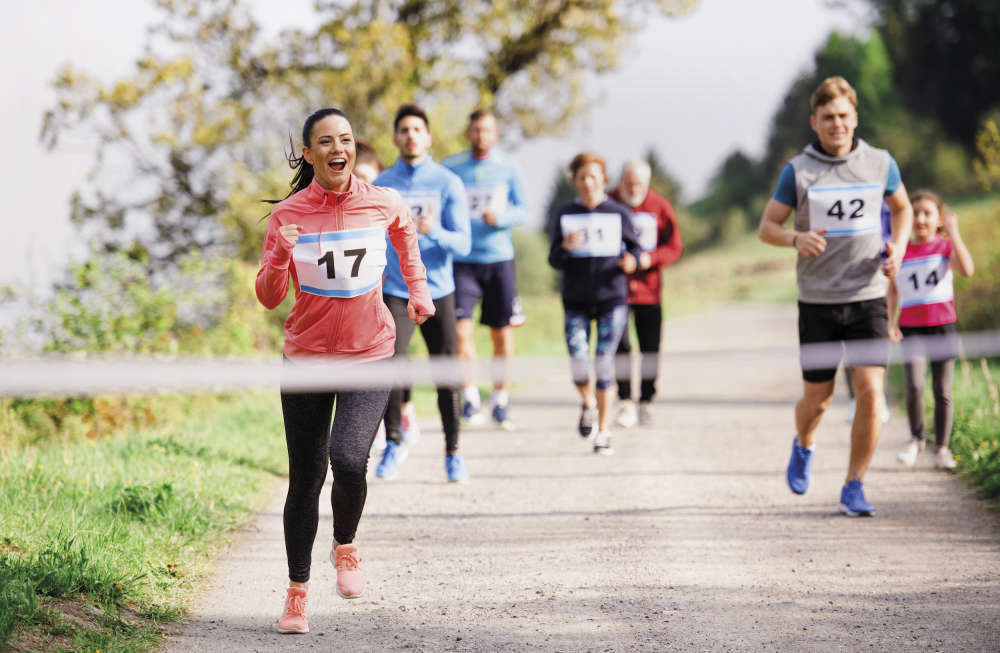 In 2007 David began racing and made regular improvements. "The euphoria of success can be overwhelming." He recalled distance running as being "a bit niche" but the attention given to Paula Radcliffe, Mo Farah and London 2012 elevated running to another level.
David remembered "Lewes AC didn't have many high-performance runners, but my coach, Robbie James, had a huge capacity for hard training; and working in a small group with him took my running to another level."
David was inspired to enter his first marathon in 2008. "I was fundraising for the blind runner Dave Heeley who was running 7 marathons in 7 days on 7 continents and the London Marathon was the finale, so I thought I would take part. I didn't train properly but clocked 3:03:20 although I'd hoped for under three hours."
David has run a further five marathons and his best time was achieved, aged 30, in the 2012 Berlin Marathon. He was the 2nd Brit to finish, and 48th overall in a time of 2:28:46, which ranked him 46th in the UK for marathon running that year.
Characteristically, he played it down. "An elite marathon time for men is 2 hours 15 minutes these days," a time which would have been a world record sixty years ago. "My best time for a solitary mile is about 4m 50secs," understated David, "but the top runners, can run 4:45 or quicker, 26 consecutive times."
Since 2007 David has competed for Lewes AC in 190 events, at over 30 locations across Sussex, running 5k, 10k, cross-country, half marathon and marathon.
With David being humble and somewhat reticent about his results, it became necessary to research the achievements… He's won 16 events and appeared on the podium at another 49 though he remembered history differently. "It was important to enter events to familiarise myself with the pain of competing and to put the training into practice."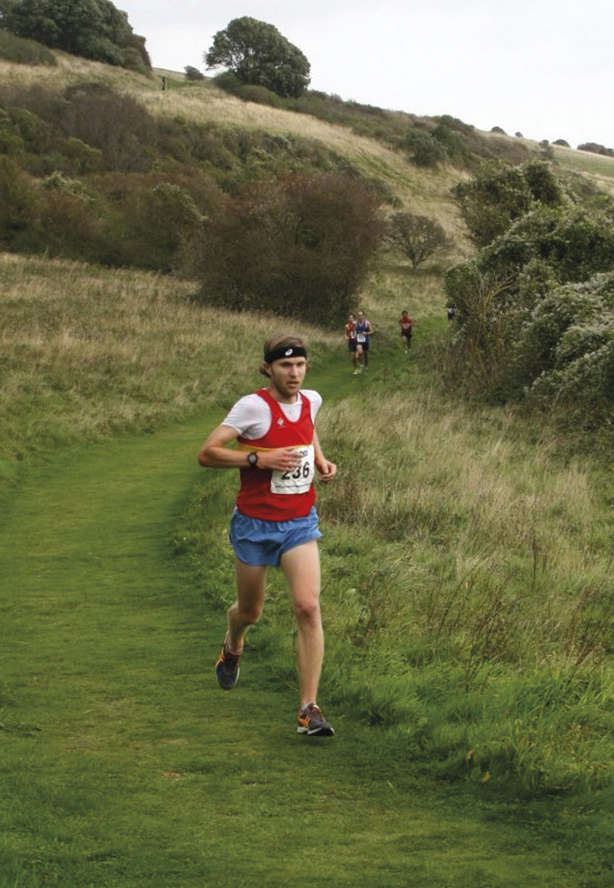 David racing through Whitbread Hollow on the outskirts of Eastbourne
David believes serious running means maintaining an even pace just below a runner's red line, as close to the threshold as possible, while still retaining control. "When someone pulls away there's nothing to be done about it, they're at their limit and I am at mine. Every race in the amateur ranks is like a time trial, we're all trying to achieve the best possible performance."
Most people who run a big city marathon love the encouragement that emanates from the crowd, but David found it a bit much. "I didn't like the wall of sound because I wanted to be zoned. The noise broke my focus and it didn't help me, but I appreciate others find it uplifting." More candidly he continued, "marathons invoke weird emotions, euphoric, traumatic and a feeling of being completely wrecked at the end of it!"
For a runner hoping to run to their potential David suggests a 5-year plan because, "Far too many people attempt a marathon too early in their running career. Conditioning the body, gaining experience, and acquiring resilience to pain is essential, because a marathon is ridiculously hard."
With a nod towards his own retinitis pigmentosa and what might lie ahead, David has run as a marathon guide for partially sighted athletes. "As a guide runner, you're tethered at the wrist by a cord and need a trusting relationship. You also need to be a slightly quicker runner than your partner because you need breath to communicate, which is difficult when you're running. It's a stressful responsibility, but great to be able to help."
David ran with Mike Scholes from Lindfield, a former pilot who has trekked to the magnetic north pole and who plans to fly across the Atlantic this year in a Rozière balloon. "My brother was the guide runner for Chris Goodwin when he ran the London Marathon in 2:46:43 – a national record for a blind man in the 40+ category."
The sibling rivalry from childhood remains. "My brother was quicker over shorter runs, but the roles were reversed over longer distances," chuckled David. The shy, chubby teenager that lacked self-belief has come a long way over the years. He's run a long way too. He's still running.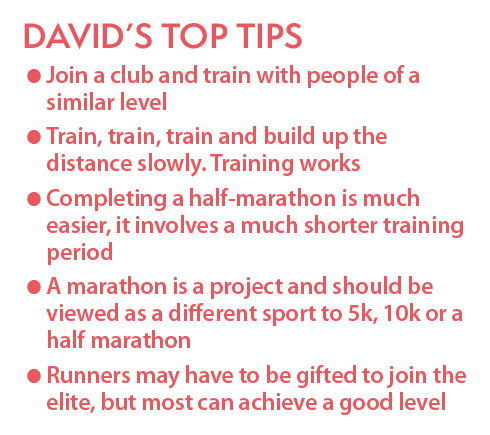 INSPIRED TO GIVE DISTANCE RUNNING A GO?
There are events across the county throughout the year and many provide stepping-stones to some of the half-marathons and marathons across Sussex that may make bigger targets further down the road. Here are just a few events, there are many more, and several that are organised specifically by charities.
| | |
| --- | --- |
| Worthing 10K | April 24th |
| Worthing Half Marathon | April 24th |
| Mid Sussex Marathon Weekend | April 30th – May 2nd |
| The Out Of The Blue Battle 5k & 10k | May 12th |
| Run Wisborough 5k & 10k | May 15th |
| Chailey Focus 5k & 10k | May 22nd |
| Rye 5m & 10m | May 29th |
| Heathfield 10k | June 9th |
| Robertsbridge Midsummer 5k & 10k | June 24th |
| Eastbourne 10k | June 26th |
| Dawn On The Downs 10k & 10m | July 24th |
| Henfield Half Marathon | August 21st |
| Barns Green Half Marathon | September 25th |
| Barns Green 10k | September 25th |
| Beachy Head Marathon | October 22nd |
| Beachy Head Half Marathon | October 23rd |
| Crawley 10k | October 23rd |
| Poppy Half Marathon | November 12th |
| Brighton Half Marathon | February 2023 TBC |
| Eastbourne Half Marathon | March 2023 TBC |
| Hastings Half Marathon | March 2023 TBC |
| Martello Half Marathon | March 2023 TBC |
| Brighton Marathon | April 2023 TBC |