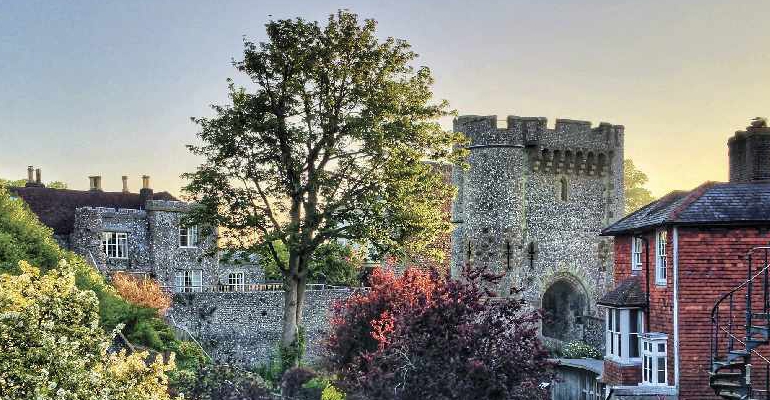 What will the future make of Lewes's most recent century? John Warburton explores the town in the past 100 years, from its iron industry and railway to its famed bonfire celebrations
Our hundred years begin with wounds, after more than 350 soldiers from the town were sacrificed in the Great War. But being enigmatic, independent and resourceful, Lewes more than bounced back.
The Phoenix Ironworks thrived and the foundry on North Street by the banks of the River Ouse was the largest employer in the town during the first half of the twentieth century - as countless manhole covers in Sussex streets still testify today. Lampposts, railings, fire grates, and parts for mines in WWII were also manufactured here.
Across the river, the railway had extended north to Uckfield, making Lewes a well-connected town, with direct lines to London, Eastbourne, Seaford and Brighton.
The population of the town grew in the 1930s, partly accommodated by the Nevill and Landport housing estates, before darkness returned in 1939. Loved ones were again lost to war, while enemy bombs targeted the ironworks and railway stations, with homes often destroyed too, followed by airborne machine-guns strafing the streets, notably in 1943.
Though the ironworks made parts for prefabricated homes after WWII, post-war technology did not favour heavy industry and by 1978, the Phoenix Ironworks was in decline, finally closing in 1986. Artists and makers rented the buildings until 2016, when the local authorities agreed on redevelopment – which has yet to begin.
The original railway station and link to Uckfield were torn away in 1969, with the town centre tracks replaced by much-derided concrete and brick shops. But afterwards, nature reclaimed the dead land that once held tracks and pollution, now made into a protected reserve managed by the Railway Land Wildlife Trust. To the north of the town, Malling Recreation Ground and a woodland corridor exist where steam once thrived.
In the 1960s, campaigners fought off proposals to bulldoze the new A27 through the town's historic streets and green spaces. Today, the southern bypass, and the blasted-out Cuilfail Tunnel divert through traffic away from the historic streets of the town. The road building project successfully preserved the houses in South Street and the old Cliffe Bridge is now a haven for walkers, buskers and protests. The new road and bridge across the River Ouse named Phoenix Causeway harks back to the past and the foundry.
In the 'bonfire capital of the world' both past and present are joined at the hip. Cliffe and Lewes Borough bonfire societies were born in 1853 and both still thrive. The striped Guernsey jumpers worn today have their roots in sailors, smuggling and the old days as a busy port. The once defunct Southover Bonfire Society was restored in 2005.
Above it all, keeping an eye on everything is the castle, a guardian of the past, watching over the future. What will the historians of Lewes make of the next century?