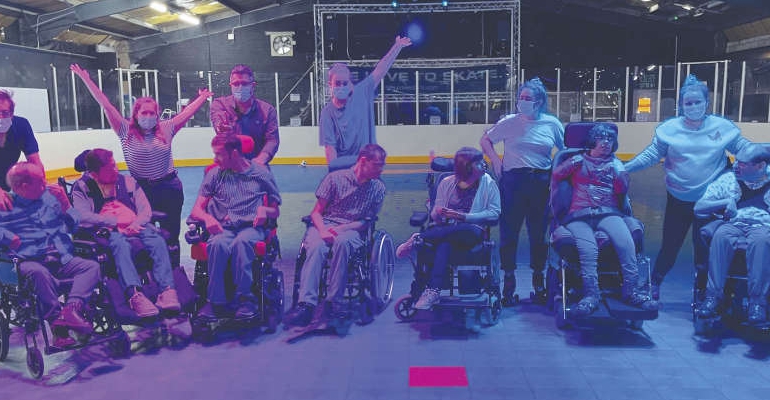 Giving their residents more from life, The Bevern Trust in Barcombe focus on love, care, freedom and opportunity. Jim West told Sara Whatley more about what the trust do
The Bevern Trust runs Bevern View, a purpose built residential home in Barcombe, just outside Lewes, providing life-long care for eleven young adults with profound disabilities. They are passionate about releasing people from the expectations others have about disability and offer love, care, freedom, and opportunity, allowing profoundly disabled people to get more from life.
"I have worked in care my whole adult life," Jim West, Care Manager told me. "But never before have I experienced such a unique home. I feel honoured to work in such great company and I'm so proud of the staff and residents here. Our resident's beautiful characters shine through."
Residents have a flexible programme, which includes a wide range of physical, music, art and hydrotherapies, an in-house sensory room, active reading times, wellbeing groups, and learning opportunities such as running a weekly café. The hotly contested Glow Bowling Championship is a huge hit with residents, each vying to win the coveted golden trophy! All the residents have especially enjoyed the new opportunities to go on outings since Covid-19 restrictions have eased and favourite trips have included Eastbourne seafront, local garden centres, Stanmer Park and meeting with family and friends for lunch.
Jim told me about one of their residents, Chloe. She is a young lady full of energy and happiness who loves to sing and shout along to musicals and 70s soul. "Chloe is 90% non-verbal, but she has brilliant comic timing; she drops in her 'oh no!' just at the right time to make the whole group laugh!" said Jim.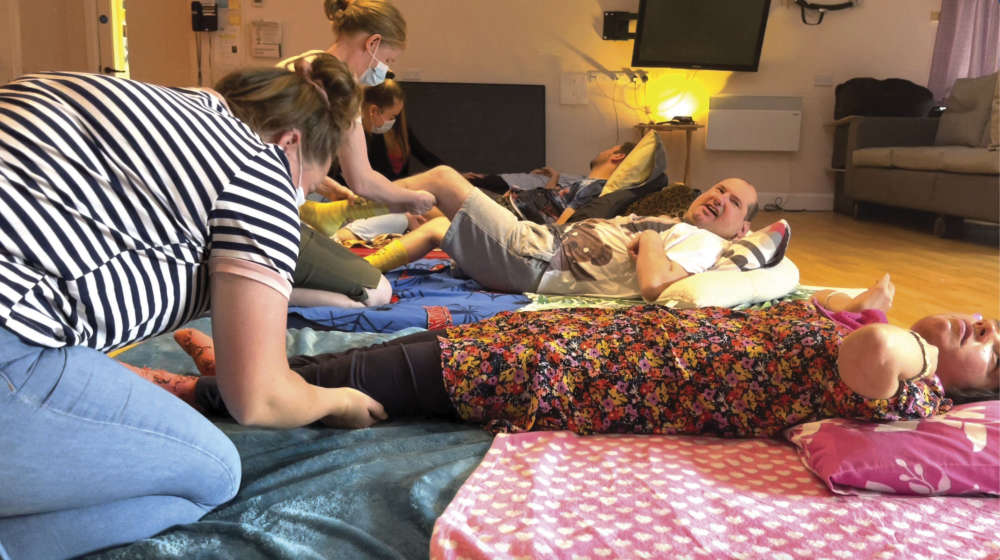 All the residents have breakfast and lunch together to enjoy time as a group. After breakfast Chloe heads to the Orientation Group, where the Communication Team sing with her using Makaton (a signing language). Each resident has three or four songs specific to them, using their name.
Then Chloe enjoys grounding exercises which include gentle massage and pressure (with her permission) and breathing exercises – smelling the flowers and blowing out candles – to help her identify herself in space and time. Chloe particularly enjoys massage and pamper sessions and can't wait to go out and get her hair and makeup done again.
Tim and Immy are the amazing activities team who create bespoke activities for each resident and give them fully immersive sensory fun. For example, Chloe loves the water, so they have made her a virtual reality experience where she is swimming in the ocean with wind and sea spray in her face. Then she can watch it on video and enjoy it all again!
Afternoon activities might include outings where Chloe will be riding her trike in nature or a hydro pool session, which is brilliant for her posture, muscle structure and tone. Chloe also likes being with her friend Amy and living life to the full – she is a fun loving girl!
"The residents have coped amazingly well during Covid-19 restrictions to family and friend visits," Jim told me. Thankfully visits can now take place in the resident's large rooms, and even in dedicated communal rooms which they book out.
Newsreader, TV presenter, and patron of the charity, Natasha Kaplinsky is regularly involved in visits to residents, supporting fundraising events and hosting the annual dinner and quiz. She said, "I am very proud to be able to help support the amazing Bevern Trust which provides outstanding care for the profoundly disabled young adults who live at Bevern View. The 'more from life' ethos ensures our residents access activities, therapies and events which stimulate and stretch, as well as entertain and educate, supported by an outstanding team."
Funding the outstanding therapies and activities is costly, so The Bevern Trust are always keen to connect with new supporters who would love to make a difference in the lives of their vulnerable residents.
Website: www.beverntrust.org