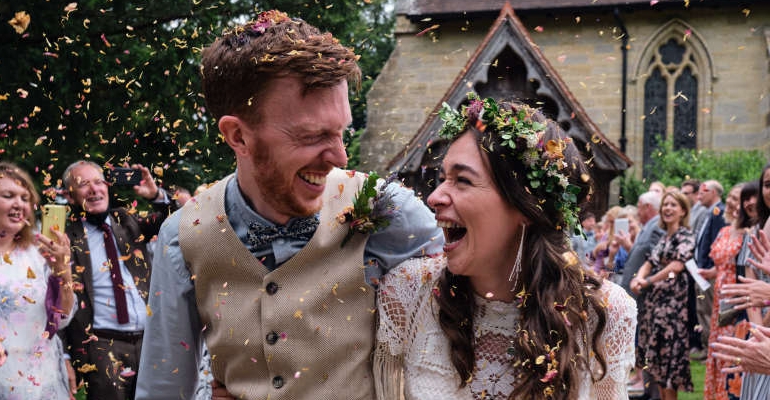 When More Radio breakfast presenter Lou Nash and her husband set out to plan their wedding fifteen months ago, they intended to make it as eco-friendly as possible, and here she shares some of their best ideas
My husband and I are both passionate about nature and protecting the planet, and after some research we discovered it's not that difficult to ensure your big day has a minimal impact on the planet, without compromising on those beautiful little details that make it so special.
GO VEGGIE
An easy way to reduce your wedding's carbon footprint is by reducing the amount of meat consumed. My husband and I are both vegetarian, however we have many friends and family members who do eat meat. We wanted our food to be vegetarian without the feeling there was something missing. We opted for curry, served in sharing bowls on every table. It went down a storm and everyone loved it. Many of our meat eating guests didn't notice the difference, we had so many compliments, and by serving it from sharing bowls, we reduced the amount of food waste as well. If you don't want to ditch the meat completely then make sure it's sustainably farmed, and ideally locally sourced, along with other seasonal ingredients.
SHOP LOCAL
Using local suppliers, local produce and local shops can make your wedding more eco-friendly. We wanted our guests to enjoy freshly made ice cream from a vintage van and sourced one near Ringmer. It proved a popular choice and the ice cream was delicious. Our evening food was kept really simple, bread and cheese – all made within 10 miles of our venue.
REDUCE SINGLE USE PRODUCTS
Single use products are actually really easy to cut out of weddings. Choose paper straws instead of plastic; most suppliers will be more than happy to make the swap, but you often need to ask in advance. Dried flower petals make the best confetti as they smell beautiful and look wonderful; you can even match them to your colour scheme. Think carefully about favours – there are lots of eco-friendly options out there like packets of seeds, or plants like herbs and succulents, which make lovely looking favours and also double up as table décor. Practical favours have a life beyond the wedding day.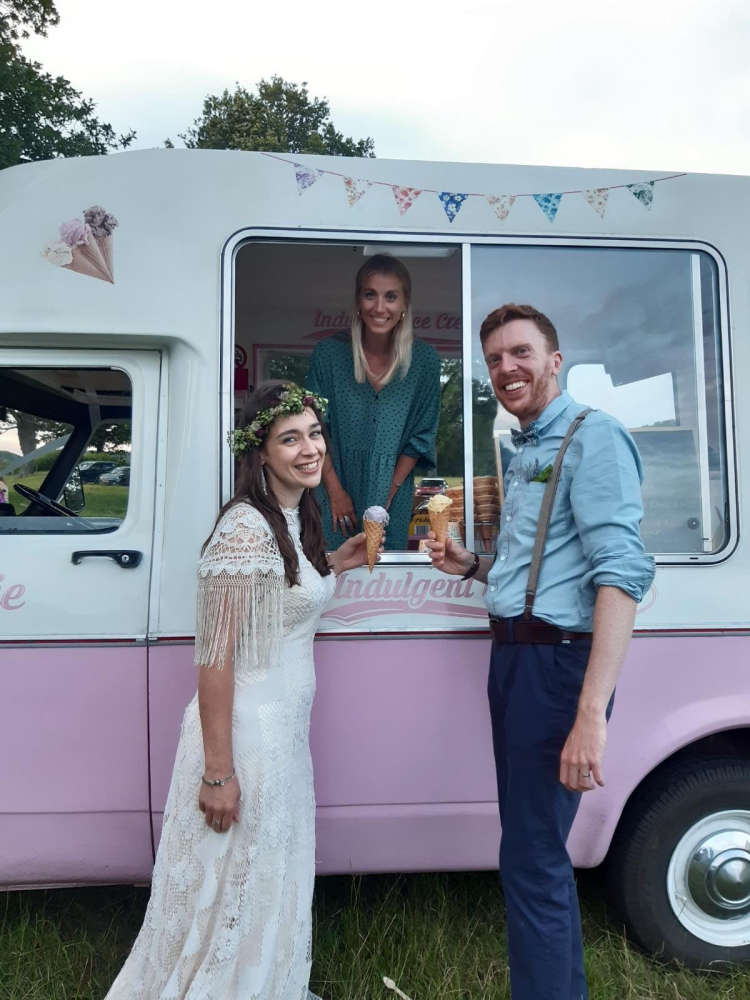 BORROW DON'T BUY
Decorating a venue can take a huge chunk of the budget but thinking creatively can save money and the planet. First up, ask the venue what décor they offer, they may well have lots of essentials like fairy lights that would have been a budget breaker, brand new. Many charities have dedicated wedding dress shops with a huge selection to choose from, some of which might not have been worn. Some wedding dresses can also be repurposed after the big day, to be worn again at other special occasions. If your choice is to keep it in the family and re-use your mum or grandma's dress, there are plenty of seamstresses out there who can transform a dress into something totally unique. And don't forget, vintage isn't just for dresses, keep your eyes peeled for snazzy vintage suits, shoes and accessories.
SAVE THE TREES
It's possible to reduce the amount of paper consumed by a wedding. Keep the invites simple and use recycled paper. Consider creating a wedding website listing the key details of directions, gift lists, menus, taxi companies, places to stay and so on. Then send out emails detailing any changes. Look into reducing stationery on the day – do the guests really need menus, can an order of service be shared between two people?
GIFTS
Gift lists are a brilliant way of making sure you don't end up with lots of well intentioned presents you might never use. These days there are so many different options, from traditional department store lists, to websites that take the awkwardness out of asking for money towards the honeymoon, or loft conversion. We have just moved into an old cottage which requires lots of renovation and chose a website offering guests the chance to treat us to things we need for the project. Whether it was bricks, doors or even a bathtub – all the gifts will come in handy. Our guests loved the creativity of it, several commented saying how pleasing it was to help fund something really important to us.
LOCALLY GROWN
We're so lucky in Sussex that we have several cutting gardens meaning your wedding flowers don't have to come from overseas, thereby reducing the environmental impact of your wedding. We rather ambitiously decided to try growing some of our own flowers. I spent £15 on seeds in January, and by the time of our wedding (with lots of love and watering) we had enough blooms to fill the table vases. But if you're not the green-fingered type why not ask friends or family members to help grow your blooms? Pot plants and dried flowers make great venue and table decorations and can be used again after the big day. As well as cutting down on waste this means your wedding flowers can live on in your home or garden for years to come. They can also become gifts for your guests. Finally, why not consider donating cut flowers to a local hospital, hospice or care home so they're enjoyed for more than just one day.
Looking back on our big day, my husband and I reflect positively on the choices we made, hoping we helped to do our bit, for our guests, for the local economy and for the future of the planet. Now it's time to look forward to your big day…