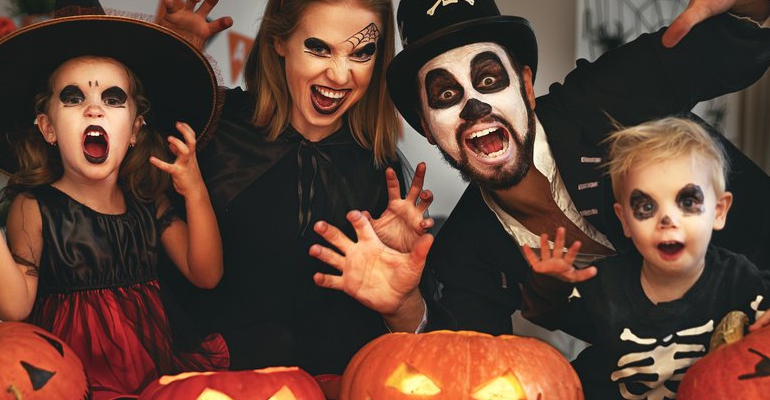 With current restrictions in place, it may be more difficult to get out trick and treating with the family this year. So make sure you get on the sofa with the blankets ready to hide behind, and check out these classic shows and films as the haunting hour approaches...
Please note some of this content is not suitable for children.
1. Hocus Pocus (1993)
This fantasy comedy film is a Halloween classic for the family. Featuring hilarious performances from Bette Midler, Kathy Najimy and Sarah Jessica Parker, the film follows a villainous trio of witches who are resurrected on Halloween night, and set out to cause chaos.
2. The Witches (1990)
Another fun treat for the family, this dark fantasy adaptation of the Roald Dahl novel features evil witches who masquerade as ordinary women and kill children. It's down to a boy and his grandmother to find a way to destroy them.
3. Scream (1996)
Any horror film fan will recognise this instant jump-scare classic with a twist. From the mind of Wes Craven comes this story about a teenage girl and her friends who are plagued by a serial killer dressed in a Halloween ghost costume.
4. The Rocky Horror Picture Show (1975)
Quite possibly one of the most bizarre, yet popular, musicals of all time, this fascinating tale of gothic aliens, strange experiments and a very young MeatLoaf also includes iconic performances from Tim Curry and Richard O'Brien.
5. E.T. The Extra-Terrestrial (1982)
Come on, who doesn't cry at the ending to this? Focused on one of the most heartwarming friendships in cinematic history, Steven Spielberg's masterpiece looks at the relationship between a young boy and an alien who comes to Earth.
6. The Haunting of Hill House (2018)
Onto the TV shows now, and this critically acclaimed anthology series debuted on Netflix a couple of years ago to rave reviews, with a second series launching this autumn. Set in the titular Hill House, this horror looks at a family's return to their childhood home, many years after they were plagued in the house as children. You'll want to make sure the kids are in bed for this one.
7. American Horror Story (2011)
Possibly the most adult entry on this list, this anthology series has now ran for nine seasons with a stunning stellar cast each time, including regulars Evan Peters, Sarah Paulson and Jessica Lange. If you've never seen it, a great place to start is with 'Murder House' - the show's first outing. Just be warned, it certainly warrants its 18 plus content!
8. The X-Files (1993)
'The truth is out there'... Delving back into the supernatural, any big sci-fi fan will have heard of the adventures of Mulder and Scully as they search for extraterrestrial life. With some acclaimed episodes, led by the central talents of David Duchovny and Gillian Anderson, the entire boxset is available on Amazon Prime now.
9. Stranger Things (2016)
Inspired by Steven Spielberg films with an 80s-set retro feel, this supernatural horror, focusing on a group of kids caught up in events beyond their control, was a major hit when it debuted on Netflix back in 2016. It's now one of the most recognisable shows on the streaming service with a fourth season on the way.
10. Bates Motel (2013)
Finally, we come to this modern-day retelling of Alfred Hitchcock's masterpiece, Psycho. The show focuses on the lives of pre-serial killer Norman Bates and his mother as they take over the iconic Bates Motel, and we see Freddie's descent into evil over the course of five acclaimed seasons, led by the central duo of Freddie Highmore and Vera Farmiga.