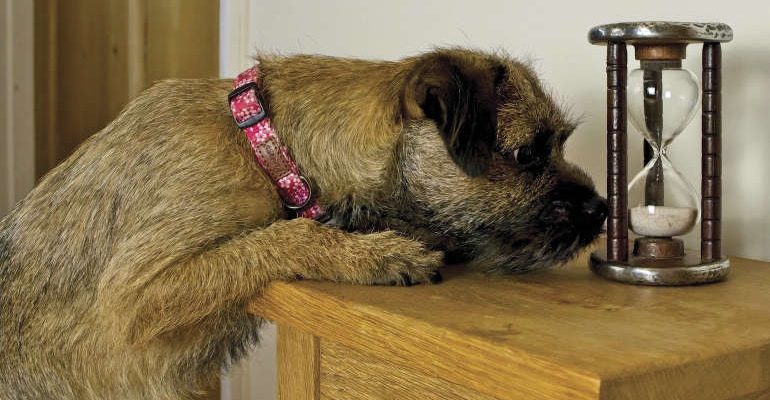 Teddy has been contemplating the passage of time, and has noticed the chapters of life are flashing by, so he's making the case for slowing down, living in the moment and enjoying the shortest month of the year; yipped and yapped as ever via the pen of Helen Stockton
Well, the longest month of the year, in endurance terms, if not in numerical duration, is over, and the shortest month has begun, narrowing the gap between winter and spring. It may not feel like it on occasions, but time passes quickly. This is particularly noticeable if you are a dog. We have a much shorter lifespan than people, with the average for a Border Terrier, being thirteen to fifteen years, and I've had over nine of those already. Unbelievably, my apprentice, Bear, who only a seemingly short time ago burst into our lives as a tiny puppy, is now approaching her first birthday. She has grown into a lively, loveable roguesse, into everything and with an unrivalled capacity for chewing that has seen the demise of leads, collars, harnesses, bedding, toys… you get the picture! Where has that year gone to?
'Them Indoors' are feeling the passage of time too. They are presently in the throes of trying to move house, which, according to the vagaries of a web of interconnected circumstances, mainly outside of their control, may or may not happen any time soon. They have been in our present house for sixteen years. When they moved here, 'Junior Her' was still at primary school, and a lot of family life has taken place within these four walls. Now the Juniors are grown, 'Him Indoors' has recently retired, and down-sizing will hopefully mark the start of a whole new chapter, which is fine, if you temporarily forget how quickly the last one went by.
There seems to be a conspiracy to rush us through life as quickly as possible. 'Her Indoors', a few days before last Christmas, noticed some hot cross buns at the top of a grocery delivery, for a neighbour, and commented about the seasonal incongruity to the driver. His response was to point out that Easter eggs were in the warehouse, just waiting for the despatch of the turkey and brandy butter, before making their way out to us avid consumers. There's no time to wait – get your suntan lotion and flipflops purchased now.
In the face of all this speeding up, I'd like to make a case for slowing down. I don't like to rush about too much. On walks, I like a leisurely sniff, and Bear adds another set of nostrils, ensuring I don't miss a good scent. I like to lie in the sun, sleep on my bed and enjoy life in the moment, and I reckon we'd all be better off if we did more of the same. So, let's take February at a leisurely pace, I reckon the rest of the year will come soon enough, after all, time flies.