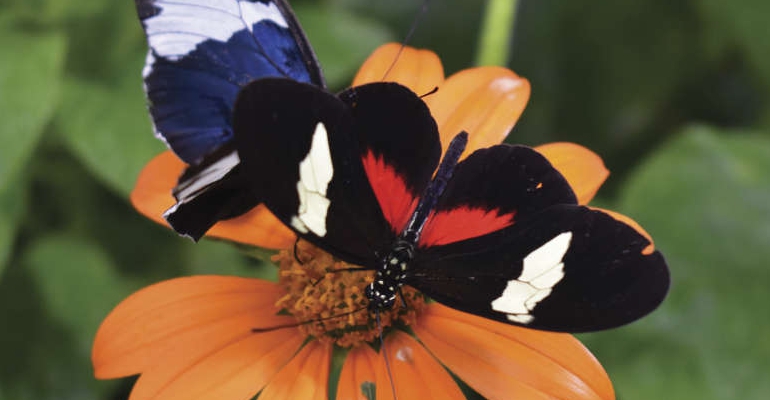 Advertising Feature: For a truly unique and magical experience, visit The Butterfly Gardens at Middleton Common Farm, just as Sara Whatley did
It started when Matthew Simmonds was six years old. He went into his garden, found a caterpillar, took it in and watched it undergo its miraculous metamorphosis. From that moment Matthew was hooked. Having made a career out of his passion, I met the grown-up Matthew amongst his exotic butterflies and moths at The Butterfly Gardens in Ditchling.
"There are 45 species in here, about 1,000 flying and maybe 500-600 caterpillars," Matthew said as we wandered slowly along the path through the tropically heated poly-tunnel, which houses the butterflies. It's like stepping into another world; jungle plants snake from floor to ceiling, flurries of brilliantly coloured butterflies flap all around and giant caterpillars climb banana trees. "We have regular visitors who come for a few hours of escapism each week," Matthew explained, and I can see why. The slower you go the more you see; it is a very calming and meditative experience in the garden.
From Matthew's initial discovery as a six-year-old, he pursued his passion by volunteering at an exotic butterfly farm in Eastbourne. Then, aged about 14 his parents built him his own greenhouse, which Matthew turned into a mini tropical habitat to breed his butterflies.
Matthew progressed to the butterfly house at Gatwick Zoo and from there he travelled to a butterfly farm on Gran Canaria. Here he started to build many contacts and travelled widely to the countries of origin of the butterflies he was breeding.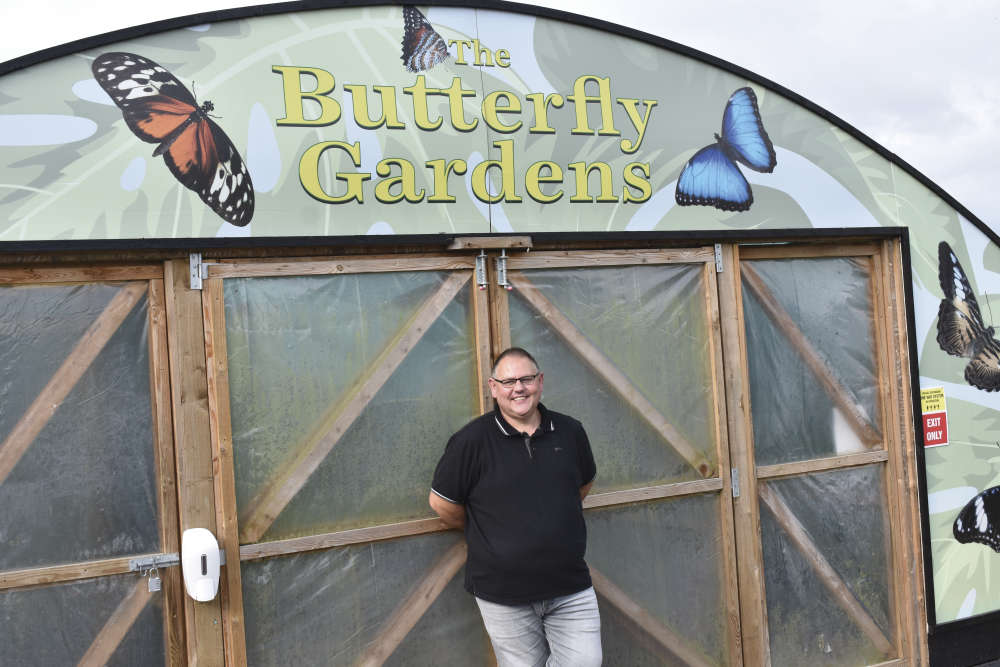 Returning to England Matthew married Amanda then settled and started a family, but that didn't put a stop to his lepidopterist tendencies, and he started to specialise in support and consultation for butterfly houses all over the world including Spain, Italy, Pakistan and Dubai. Matthew was in touch with breeding farms all over the world, importing their chrysalises to the UK and then supplying other butterfly farms in the UK and throughout Europe.
Then the pandemic struck and his work dried up. Ever enthusiastic, Matthew turned to his own doorstep, teamed up with Nick Best, the son of the land owner who had the necessary skills to bring the dream to life. Together they built The Butterfly Gardens.
"We were extremely busy from the off," said Matthew, and as restrictions lifted visitors increased. "We are planning more poly-tunnels to grow more tropical plants for the butterflies, a reception and shop area, and a shelter for talks and mini beasts."
There is also a farm shop serving coffee and classic produce such as fresh eggs, fruit and vegetables, delicious locally made chutneys and jams, deli delights and freshly baked goods. They deliver logs and coal and are also an official stockist of The Garlic Farm Isle of Wight. "We have been here for 38 years," Tim Best told me, the son of one of the Best brothers, Mick and John (83-year-old identical twins!) who own Middleton Common Farm.
Visiting The Butterfly Gardens is a brilliant day out; a unique slowing down experience filled with wonder and beauty, in a peaceful country setting, perfect for a farm shop picnic.
The Butterfly Gardens
Address: Middleton Common Farm, Middleton Common Lane, Ditchling Common BN6 8SF
Telephone: 01273 054996
Email: middletonbutterflygardens@gmail.com
Website: www.sussexbutterflygardens.co.uk